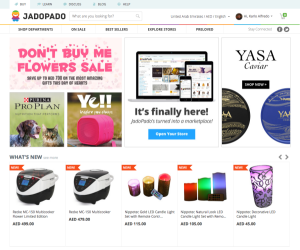 E-commerce firm JadoPado has today unveiled the evolution of its business into a marketplace.
JadoPado allows sellers to set up a store in a few minutes and start selling their products to a global audience.
The company's platform lets sellers sell new, used and refurbished products to buyers.
"JadoPado has seen tremendous growth across the region over the last four years by focusing on our customers," said Omar Kassim, CEO, JadoPado. "We're taking the next step by revolutionising the way sellers approach e-commerce."
Products, offers, and order management are all included in the user experience, as well as the ability to customise stores to create unique branded experiences.
Sellers can add offers to existing products in JadoPado's catalogue or create new products across 16 level categories and over 5500 categories in total.
Orders and shipping are handled through an interface allowing sellers to ship directly to customers the way they want, whether it be with their own fleet or a third party carrier.
Buyers can message sellers with their queries before or after purchase and use reviews to give sellers feedback about their purchase experience.
JadoPado handles payments on behalf of sellers with an integrated multi-seller checkout process. Sellers can request to be paid out to any bank account globally once a buyer has received their purchase.
"Online behaviour in the Middle East is evolving rapidly and consumers are making more astute choices when it comes to shopping online," Kassim added. "We're seeing steady growth in brick and mortar retailers looking to add an e-commerce channel and trying to figure out how to turn themselves into omni-channel retailers. We see JadoPado as an important part of that mix, allowing retailers to go to market quickly and test the waters before they throw millions of dollars towards change."