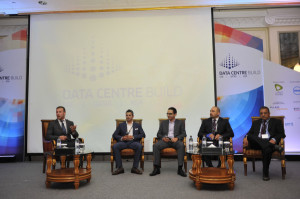 CPI Media Group recently played host to the second annual Data Centre Build road show. An event that spanned the region, with workshops in Dubai, Doha and Riyadh, CNME, its partners and expert speakers aimed to shed light on the unique challenges and opportunities for virtualisation in the Middle East. The three conferences were designed to educate delegates in all aspects of data centre strategy.
Business in the Middle East is on the rise, and as such, data centres in the region are set for a period of steady growth that will mirror that expansion. Modern data centres need to support new, holistic requirements with infrastructure convergence, optimisations and automation while keeping in mind opportunities to save energy and costs.
Virtualisation is on the minds of all CIOs in the region as the IT industry looks to virtualise in order manage the pace of infrastructure change and provide increased control over user experience. In addition, virtualisation can provide better security and business continuity as well as improve software deployments and streamline updates.
Key topics at all three conferences included; design, build and operation of the data centre—from selecting the site, engineering and design to power availability and full data centre automation; outsourcing decisions, from collocation to Platform-as-a-Service to building in the cloud; and IT optimisations – insight into how IT needs to drive data centre strategy.
Each conference featured a number of high-level experts from the region, representing firms such as Etisalat, Brocade, Fluke Networks, MEEZA and the Government of Abu Dhabi. As speakers were experts based in each city, they were able to address issues that local CIOs encounter when faced with the challenge of building or upgrading a data centre.
In Doha, speakers included Elie Kamel, Solutions Manager, Dell Qatar; Samer Ismair, System Engineer-MENA, Brocade; Chris Leahy, Director—Technical Facilities, MEEZA; and Mamoun Hajjar, Territory Sales Manager—Qatar, Kuwait & RoME, Fluke Networks. In Riyadh, expert speakers included Adel Gharib, Dell Middle East; Ahmed Aamer, Executive Director, Sky Computing; and Afif S Abdallah, Territory Manager, KSA & Jordan, Fluke Networks.
Also speaking in Dubai Ismair, tackled the topic of the on-demand data centre network and the role of fibre networks in the new data centre landscape. "People say that fibre channels are dying," said Ismair, "they are not. They are efficient and reliable and are experiencing consistent market growth."
Kuldeep Bhatnagar, IT Advisor, Environment Agency – Abu Dhabi Government, discussed the environmental impact of data centres in the Middle East. Virtualisation, he said, is actually making a positive impact on the environment. "Gartner estimates that 1.2 million workloads run virtual machines," said Bhatnagar, "That saves 720 million tons of Co2 per year."
Ziad Sawtari, Territory Sales Manager for UAE & Oman, Fluke Networks, discussed the importance and challenges of network performance monitoring. "Finding the problem is like looking for a needle in a haystack. With the right tools, however, the issue can be found," said Sawtari in regard to monitoring data centres, "Monitor from the end user perspective – what the end user is experiencing, to find were the problem is coming from."
Each conference ended with a panel discussion with regional IT industry leaders. Topics included the future of virtualisation in the region and how the market is changing for IT consultants.
The conferences provided solutions such as better security and business continuity that can be applied in real-world scenarios. Delegates that attended the CNME 2014 Data Centre Builds undoubtedly walked away with a clearer understanding of the state of data centres and virtualisation in the Middle East today.