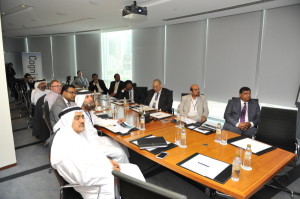 In addition to presentations by Cognizant top-brass, the roundtable was an open discussion amongst an impressive cast of attendees on disruptive forces such as mobility, converged infrastructure, IT automation and cloud that could lead transformative changes in businesses through IT.
To start off the event, Stephen Fernandes, Assistant Vice President and Head, Middle East, Cognizant, welcomed the participants to the event, and gave an outline of IT infrastructure trends in the technology industry. From autonomics and predictive analytics to the move from a reactive IT environment to a predictive one, the day's topics aimed to provide unique insight.
"Cognizant is well positioned to address clients' dual mandate of driving greater performance in their current businesses, while developing the capabilities they need for future success," said Fernandes, "We continue to leverage our global scale and competitiveness to help clients unlock significant value from the synergies of applications and infrastructure. Our consulting and managed services deliver the resources and capabilities required to assess, design, build and manage an agile, flexible IT environment."
The floor was then given to K.S. Ganesan, Vice President and Chief Technology Officer, IT Infrastructure Service Practice, Cognizant Technology Solutions, for a keynote speech. Genesan gave an overview of the current suite of solutions provided by Cognizant, with a focus on products that can help streamline and modernise enterprises in the Middle East.
The presentation was then handed over to Mahapatra from Gartner who discussed the current state of affairs of IT. "We are working with the 'new' IT model," said Mahapatra, "and businesses need to keep up with rapidly changing business dynamics." He also discussed common "pain points" of the modern CIO, including mobility and virtualisation and what can be done to turn those issues into opportunities.
Attended by ten of the region's top CIOs and moderated by Mahapatra, the discussion centred around cloud, mobility and enterprise automation. Rajendra Sonawane, Head of IT Infrastructure Services, Landmark Group, discussed his experience as an end-user of Cognizant solutions. "I think these types of discussions are very important to the IT industry," said Sonawane, "Cognizant has been critical in supporting our operations."
Mahmoud Kamal, Chief Financial Officer, Habtoor Hospitality Group brought up the idea that many of these topics could be thought of as passing phases. The group agreed that though it may be true that these topics are hot at the moment, it is still necessary to keep abreast of issues like mobility and cloud to remain current in the industry.
Fernandes discussed Cognizant's role in enterprise mobility, emphasising the company's vison to help customers realise benefits from Cognizant's enterprise mobility solutions. The approach, he said, is to "think like a start-up," by providing optimal solutions in a cost effective manner. As such, Cognizant is able to walk the line between quality products and providing alternative resourcing and pricing models.
"Cognizant's IT Infrastructure Services business continues to see strong demand for its value proposition of simplifying, optimising and automating clients' IT infrastructure," said speaker Renga Bashyam, Vice President, IT Infrastructure Services, Cognizant, "Cognizant is empowering a growing number of clients, including one of the largest retail groups and a premier bank in the UAE, to respond to their business needs in innovative ways by embracing new enterprise IT models aligned with social, mobile, analytics and cloud technologies."
The event was certainly flush with information on up-and-coming products. However, it was more of an environment for CIOs to discuss issues and solutions. Ideas and opinions on mobility and cloud trends were shared in conjunction with information on Cognizant products and solutions. Real life tales from Cognizant end-users such as Landmark group gave attendees a more detailed picture of the challenges that the company could help to turn into opportunities.