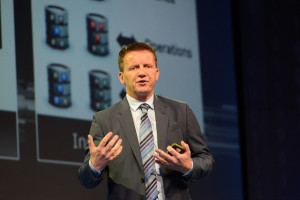 Storage virtualisation leader EMC held a Doctor Who-themed product launch in London on July 8th with the tag line, "Redefine Possible." The venue, holding true to theme, was dotted with TARDIS booths to frame EMC's virtualisation news and announcements. Attendees were able to take a peek at new EMC products as well as updates to the company's XTremIO platform.
After a round of live music, David Goulden, Information Infrastructure CEO, EMC, kicked off the event. Goulden outlined a few issues that CIOs are burdened with as virtualisation takes hold. "Dealing with existing workload growth, infrastructure application drag and performance-hungry workloads were the most prominent problems for end users," said Goulden. EMC, he said, is dedicating their new products to redefining what is possible with hybrid cloud storage.
Jeremy Burton, President of Products and Marketing, then took to the podium to give attendees a deeper look into EMC's new product offerings as well as XTremeIO. "The array has already taken in more than $100 million for EMC in less than six months, making it one of the fastest growing all-flash arrays on the market," said Burton.
Newcomers on the EMC menu, Burton said, are the Starter X-Brick storage array and the addition of up to six X-Bricks for customers with heavier workloads. Snapshots for the XTremIO are available with the new arrays. EMC assured attendees that there will be no limitations on performance, features or capacity reservations with the system's in-memory metadata architecture.
Updates to XtremIO 3.0 are also in the pipeline. EMC's newest free software code update is said to increase the efficiency of its existing all-flash arrays. The software adds in-memory, metadata space-efficient snapshots to create high-performance application copies while providing inline, always-on data compression, according to EMC.
EMC is also preparing for a release of the new VMAX series. VMAX will be the first all-flash arrays available in the market with open-enterprise data service platforms. The VMAX series is slated for release later on this year. The release will include three new models and the HYPERMAX OS open converged storage hypervisor and Dynamic Virtual Matrix architecture.
HYPERMAX OS enables users to embed storage infrastructure services such as cloud access, data mobility and data protection directly to their arrays without the hassle of having to save it remotely, according to EMC. "The OS can help customers lower their total cost of ownership by up to 50 percent while reducing their physical footprint and energy needs," Burton said.
Another new offering from EMC, the Dynamic Virtual Matrix, provides the ability to dynamically allocate processing power to meet distinctive service levels across their workloads. This allows users to control which areas receive the most processing power.
Burton then offered information on the company's acquisition of TwinStrata. The new member of the EMC family will enable the company to deliver new embedded cloud access capabilities to customers with its cloud-tiering technology.
Finally, EMC announced an update to its Isilon storage unit. The update will enable enterprise users to take advantage of a "Data Lake" of compiled information. Isilon One FS provides an enterprise-grade scaleout Data Lake. This Lake has twice the performance of other platforms, according to EMC. The Isilon X210 and X410 platforms are the latest additions to EMC. In addition, a Data Lake Hadoop Bundle will be released allowing users to streamline business backup and replication abilities while linking Big Data projects with Data Lake architecture.