James Dartnell had the pleasure of representing CNME as the only external judge at National Bank of Oman's third annual Ibtikar innovation day in December. He reports from the exciting event at the firm's offices in Muscat, which saw NBO employees slog it out for the chance to see their technology innovations put into practice.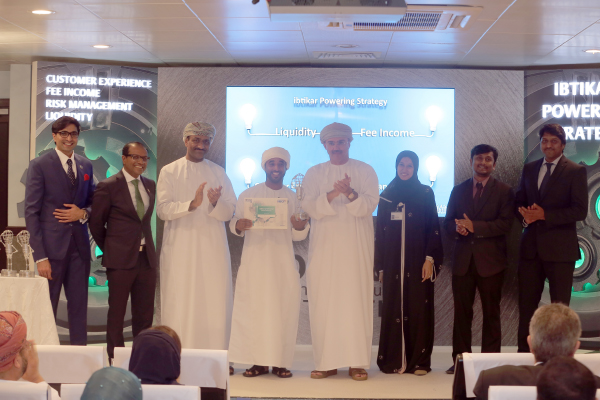 Now in its third outing, each year, Ibtikar sees 15 teams of NBO employees from across the company compete for the chance to see their technology idea brought to life. The brainchild of NBO's chief information officer, Faizal Eledath, Ibtikar was established to encourage a culture of thinking outside the box, with technology innovation at its core.
With the company's chairman Mohammed Mahfoodh Al Ardhi, chief executive Ahmed Al Musalmi and the board of directors in attendance, all entrants were eager to impress in order to get senior backing for their innovations.
Al Musalmi kicked off proceedings by giving an idea of the direction the bank would have to take in the coming years. "Innovation around digitalisation will add an estimated $3.7 trillion – roughly the size of the German economy – to the global economy in the next 10 years," he said. "It's important that we, as a bank, continue to innovate in order to not only survive, but to thrive."
Participants typically spend two months preparing and refining their ideas prior to Ibtikar, and the lengths they went to were evident in their varied and detailed presentations.
As with last year's event, no two ideas were the same, an extremely encouraging sign for the NBO leadership. With innovations ranging from slick uses of virtual reality, voice recognition and neat enhancements to NBO's mobile app, fresh thinking is clearly in abundance at the company.
While I've been asked to keep the ideas that were on display under wraps, I can honestly say that I was hugely impressed by the variety of pitches on display at the event. I also have to take my hat off to all the non-IT employees involved in the initiative, who proved themselves to be equally adept at understanding the relationship between enhanced technology and greater business value.
Events like this are an absolute must for any business that wants to be technology-led, and is currently claiming that innovation will be at the core of its strategy over the coming years. A lot of organisations still don't really don't know what innovation means to them – and it's certainly not to late to determine that – but NBO showed that they're on the right track. ROI was clear in terms of the ideas that were presented – a fair percentage of which I am certain would be a success for the bank if they were brought to life – but the way the event empowers staff also can't be ignored. At NBO, there evidently exists a free-thinking, positive culture where staff are not afraid to fail, and have a clearly defined platform to express their ideas.
Although there are many paths to success, cultivating that kind of culture strikes me as one that will make life easier for any company that intends to innovate.