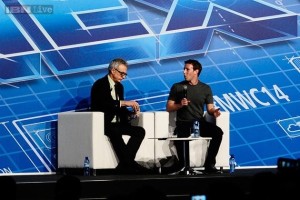 Among the biggest draws of the event this year was the maiden appearance of Facebook CEO Mark Zuckerberg, right on the heels of his company's humdinger of a deal with Whatsapp. He used his keynote address to talk about Internet.org project, a collaborative effort among telecommunications carriers, Facebook and other groups to provide free or inexpensive Internet access.
"The issue is not a lack of infrastructure, at least in areas near major cities. More than 80 percent of people worldwide have 2G or 3G access. But the problem is that many people do not understand why they would want the Internet or what to do with it," said Zuckerberg.
IBM CEO Virginia Rometty also took to the stage to announce a global competition to encourage developers to create mobile consumer and business apps powered by its Watson supercomputer platform.
"By 2016, a quarter of the apps in the world will be in the cloud," Rometty said. These apps are generating massive amounts of data, she said.
On the carrier technology front, LTE-Advanced and small cells dominated the show. LTE-Advanced consists of a number of different technologies designed to help improve performance, and the most important of these is carrier aggregation. It allows network to devote more resources to some users by treating two or more channels in the same or different frequency bands as if they were one.
Among the smartphone manufacturers, Samsung used the Congress for the debut of the fifth version of its Galaxy 3 flagship family. The dust-and-water-resistant Galaxy S5 runs Android 4.4, is powered by a quad-core processor running at 2.5GHz, and has a 5.1-inch screen with 1920 by 1080 pixel resolution.
Another high profile launch that caught our eye was that of Android-based X family from Nokia, which also launched the Nokia 220 feature phone and the Asha 230.
Sales of smartphones accounted for 53.6 percent of overall mobile phone sales last year, and exceeded annual sales of feature phones for the first time, Gartner said earlier this month. But while a growing number of users are choosing to buy a smartphone, Nokia thinks there is still room for feature phones.
Not to be outdone, Sony announced a slim, light and waterproof Android-based Xperia Z2 tablet and two new Xperia smartphones.
The 10.1 inch high-definition display tablet and the high-end Xperia Z2 smartphone, with a 5.2 inch display, will be available globally in March, while the Xperia M2 with a 4.8 inch display, will ship in April. Pricing was not announced, although Sony said the M2 will sell at a "mid-range" price to reach new buyers, such as those moving from feature phones to smartphones for the first time.
While Mobile World Congress has typically been dominated by operators and telecom infrastructure players in the past, this year has seen many dominant IT players making their presence felt at the show. A case in point was SAP, which showcased its telecom solutions spanning customer experience management to BSS to Big Data.
Among the announcements made by SAP at the show, the most important one was the alliance with Xamarin, making it easier for developers to integrate their apps with the company's mobile platform.
Xamarin's platform lets developers use C# to build native applications for iOS, Android, Mac and Windows, and share on average 75 percent of the source code across the different operating systems, it said. The deal with SAP aims to make it easier for enterprise developers to integrate SAP mobile solutions as well as other back-end data sources with their cross-platform applications.
Bringing in a regional flavor, SAP has also announced a couple of partnership agreements with STC and Etisalat. The Saudi operator has signed up SAP for network life-cycle management. This is expected to help STC gain visibility into equipment and assets, including muti-faceted historical details at every step of the life cycle.