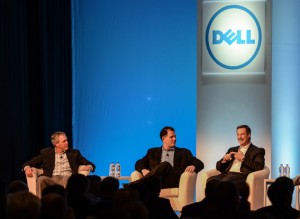 Back in the city where it all began, Michael Dell walked out at the Austin Convention Centre in Texas last month almost 20 years after he founded the company which has become one of the most well-known names in technology.
He has made some powerful friends during his journey to the top of the IT world, notably 42nd President of the United States of America, Bill Clinton, who joined him at Dell World to discuss the collaborations which have seen Clinton's charity foundation begin to change the world for many people.Dell was just 19 years of age when he founded his company in Texas. He went on to become the youngest CEO ever to make the Fortune 500 list, and Dell now employs nearly 100,000 people.
However, regardless of the fact that Dell is a $60bn company, with 40 million products and over two billion customers worldwide, Clinton and Dell didn't take to the stage to revel in the glory of their partnership. Instead, the two prolific personalities took the opportunity to discuss the major issues affecting the world and how technology, collaboration and hard work can help to transform the lives of so many people.
It goes without saying that Clinton is very passionate, a great speaker and well respected in his field. The man oozes confidence and class, and speaks with integrity and dignity, regardless to your political views. With the power of Dell standing behind him, his vision of moving into "the tomorrow world" and helping children in poverty and inequality around the world has a major boost. However, Dell has visions of his own.
"We're on the cusp of total technology transformation," Dell said.
"We're not worrying about the past – we're investing in the future. Over the last several years, innovations in cloud, big data, social media and security have changed the model for how technology is being consumed and delivered, and we're working to democratise and simplify these innovations."
Clinton also highlighted the innovative progress made over the past decade.
"There were only 50 live websites when I was in office, there's probably been more than that since I started this speech," he said.
"I sent only a total of two emails during my tenure in the White House."
The wider picture
Dell has its fingers in many pies, and maybe most notably the Clinton Global Initiative. Clinton personally thanked everyone at Dell during his keynote speech at Dell World. The Clinton foundation was set up to tackle many issues, including obesity in schools, which thanks to Dell, it has begun to do.
"We were setting our children up to have diabetes by the age of 20," Clinton said.
"When we collaborated with Dell, we used data and analysis to do research and make changes and in the five years since we started we've seen a 90% reduction in the calories served in schools, that's fantastic."
Dell and Clinton have supported each other over the past few years and aim to continue doing so in the future. A future which they claim can become more sustainable, more supportive and more productive, if technology is harvested in the correct ways and entrepreneurship and industry ambition are supported.
In which case, Dell launched a new site, Dell Centre for Entrepreneurs, to dovetail into a previously announced $US100 million Innovators Credit Fund. This site aims to provide networking and funding opportunities for new and growing small businesses across industry sectors.
This doesn't mean an end to the spending spree of acquisitions either. Dell says that the push to become a fully fledged solutions company shows no end at the moment.
Signal of intent
Sceptics may note recent rumours of buyouts and struggling times for Dell, but the tone could not have been more positive in Austin following the keynotes and announcements of the latest endeavours.
However, Dell voiced concerns over re-branding issues which it said have made the progression of the company into the software and services division quite difficult. Dell has a goal of providing full end-to-end managed services as well as software and hardware products which will help to take the company closer towards its goal of being a trillion figure name.
"25% of profits coming from Dell software is a pretty good goal I'd say," said John Swainson, President, Dell Software.
"Sure, we've had some branding issues. It's a similar situation to what IBM went through a couple of decades ago. People see us a computer manufacturer and shaking that off is definitely a challenge which our marketing team face, but I think we're doing a pretty good job. We've built up our software division, services division and security division aggressively over the past few years, whether that be in-house or through acquisitions."
Dell has gained a lot of acquisitions over the past 12 months and the next 12 is set to bring more, Swainson claimed.
As well as these divisions being heavily emphasised by Dell, Swainson said that the company is looking into in-memory technology. However it hasn't yet quite seen the value add for such a move. The company currently ships SAP's HANA technology, so this may well be an area which won't see much movement over the next couple of years.
It's been an interesting tenure so far for Swainson, he worked at IBM for 26 years prior to Dell, where he started in March, heading the software division. Swainson, who reports directly to Michael Dell, says that one of the reasons he took the post at Dell was because he saw it as a worthy challenge and an opportunity that excited him.
"I've certainly been around the block a few times. But I'm a sucker for punishment," he said.
"Dell needs to be re-branded, and this is a very attractive challenge for me. I love a good challenge."
And a good challenge it has been for him so far. The future is looking bright for Dell and any company which has the backing of a former US president certainly has the potential to do great things. A signal of which was certainly very prominent in Texas last month.