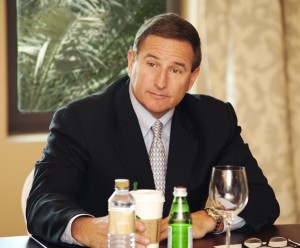 When somebody decides to host a global tour, one of the things they have to decide is in which city to host the first event. They can then be expected to be asked a million times when the event comes around about why that decision was made.
Oracle's CloudWorld event was no different. Perhaps the company would have been slightly more interested in answering why they chose to host an event entirely focused on the cloud, but members of the press and IT industry had far too many times listened to why cloud is so important to want to listen to that answer again.
Instead, they wanted to hear that Oracle's decision to host in the Middle East first really meant something significant. They wanted to hear that it was an indication of the region's active role in leading cloud implementations around the world. That hosting it there was a bold statement of Oracle's big expectations for the region in the evolvement of cloud technologies.
However, perhaps the underwhelming truth was in fact that it was simply the most logistically sound location to begin the tour. Either way, the company's star player at the event, President Mark Hurd, didn't waste the opportunity to push the former, slightly more glamorous, theory.
"This region is a place we're growing," Hurd said. "So we chose to come here because of the incredible support from our team here, the excitement of our team here, the amount of growth we are getting out of this region and how much energy we're putting into the region."
"I have spent time with our partners and customers here and there is tremendous excitement about the cloud. I think the opportunity is there for the Middle East to lead cloud adoption and we certainly come with a strong portfolio, strong customer base and strong network of partners who are capable of assisting a growing team."
He further referred to Oracle's commitment to the region by highlighting recent initiatives, including its move to a new building in Dubai Internet City, which will help accommodate its continued growth of operations and the increasing number of employees.
"We've got a decent-sized organisation that we're growing in Abu Dhabi, as well, so we're investing heavily in the Emirates," he added.
Another regional investment Oracle is making in the region is its development initiative, which hits at around 500,000 students.
"This is very much trying to get Oracle technologies in the hands of students," Hurd said. "We think this is a benefit to us in multiple fashions. One, these students can come out and join Oracle. Second, they can join partners. Third, they become customers."
Oracle also has about 70 user groups in the region that it uses to communicate with. "They come together as a group, we have events for them and we use them as listening posts to talk about our technology and portfolio. There are roughly 125,000 members in these 70 user groups so that's a big investment for us," Hurd added.
Unfounded concerns
Despite all of the hype of cloud, the reality remains that adoption remains low, in this region or otherwise.
With concerns regarding security and loss of data normally taking account for this, Hurd was at pains to dismiss these, instead focusing on the supposed lack of cloud products in the region.
"When you go and look at where most of the SaaS providers are, most of them are small companies and most of the them start their work in the United States, and most of them have a hard time moving outside of the US for one reason or another," he said.
"We are really the only scaled company that has got a very broad serviced ecosystem, partner ecosystem, sales ecosystem and a full suite of cloud SaaS products that we've brought to the region. Who else has brought their portfolio to the region? You might find somebody with one silo product, but not much. So I think the adoption of cloud has been low in the Middle East because there really just hasn't been a position in the market where someone has come with the offers that we are now. It's a new day."
The CloudWorld roadshow will also be hosted in other major cities around the world including Frankfurt, London, Los Angeles, Mexico City, Mumbai, New York City, Singapore, Sydney and Tokyo.
Participants of the event were introduced to the latest developments in Oracle cloud technology and its benefits to business and public and private sector industries.
Oracle also used the event to officially announce its delivery of infrastructure-as-a-service (IaaS) on-premise with capacity on demand, a project the company announced at its OpenWorld event in September.
The company said it is not pitching the IaaS offers as an alternative to commodity cloud services, such as the Amazon Web Services (AWS), but rather as an alternative to purchasing Oracle systems for on-premise deployment.
It claimed that using its IaaS eliminates the upfront capital costs of buying new equipment and could quickly provide additional capacity, at a price, when needed.
According to Hurd, it is Oracle's "very aggressive approach" to the cloud that makes it a clear leader in the field.
"We haven't just released one application for the cloud, we've announced all three – platform-as-a-service, infrastructure-as-a-service and software-as-a-service," he said.
"On top of it – inside the SaaS offerings – we have a complete suite of applications, which are available on-premise, off-premise, in a private cloud or in a public cloud. All of our applications are built on Fusion middleware so we have a tremendous amount of ability to extend those applications and integrate those applications unlike anything that has been around before.
"The great news about our portfolio in the cloud is it gives the customers ultimate flexibility. They can mix and match – they can use the cloud to engage with some applications and do others on-premise, and they can do some on the private and some on the public cloud. All of these options are available to them. We felt it important, because of the breadth of our offering, to really get this in front of customers directly."