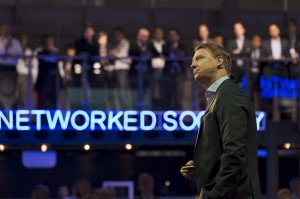 Ericsson's telecoms dominance just about withstood the rising force of China-based Huawei at Mobile World Congress, but the Koreans took the grand prize as Samsung's supremacy only illuminated Apple's absence.
Over the last few years, Swedish telecoms juggernaut Ericsson has increasingly had to experience a rather disconcerting and unfamiliar feeling. That feeling is competition.
The undisputed market leader of equipment for wireless telecom networks has sold the biggest share to mobile phone operators around the world for a long time. But "undisputed" is a word it is seeing less of every day.
That is because, like many markets in the world, a Chinese company has decided to join, or rather ruin, the party. Huawei was founded in 1987 to initially resell telephone switches in rural China, but its meteoric rise has seen it match Ericsson's $35 billion of total sales.
It should be remembered that the two companies have very different balances. Whilst Ericsson makes 43 percent of its sales by managing wireless networks, Huawei takes a large chunk through its sale of smartphones and corporate communications grids.
Ericsson will also remain safe in the knowledge that it sold 29 percent more equipment to operators last year and remains the biggest seller of key components like data and voice.
But there is no room from complacency, especially when momentum continues to side with the growing Chinese giant. Whilst Huawei's profit rose 33 percent last year to $2.5 billion, Ericsson's fell 53 percent to $919 million, as its network equipment sales dropped 11 percent.
Hans Vestberg, who took the Ericsson CEO mantel in January 2010, has helped the company tremendously in offsetting its equipment rivalry with Huawei by leading the company's diversification into network management.
Furthermore, for now at least, Ericsson continued to show it is the number one player with its large presence and impressive display of its leading products at Mobile World Congress.
It also further proved its resilience and eagerness to identify new revenue streams by signing an agreement with SAP to jointly market and sell cloud-based M2M solutions and services to enterprises via operators around the globe.
The solutions will be based on a combined software-as-a-service (SaaS) offering. According to Vestberg, the power of Ericsson's services, solutions, technology and network operator infrastructure, along with SAP-powered enterprise business solutions, will allow businesses to find better and more innovative ways to respond to customer needs quicker than they could before.
However, both Ericsson's and Huawei's large presences were thwarted by a company that has taken the mobile world by storm. Everywhere you looked at event, you saw Samsung.
The South Korean conglomerate attracted swarming crowds as it unveiled the Galaxy Note 8.0 tablet as a competitor to the iPad Mini. Samsung has already taken over the smartphone market, with its 64.5 million sales in the fourth quarter of 2012 beating Apple by over 20 million, and it has now set its sights on releasing Apple's strong stranglehold on the lucrative tablet market. To do so, it will double tablet sales from a year ago, it claimed at MWC.
While Apple's absence was nothing new, due to its preference of only sponsoring its own events, Samsung's commanding presence did lend the perception to the 70,000 attendees that it is now the big player in town. Despite Apple having never participated in the show, there was a strong feeling that this year's MWC marked the end of its mobile dominance.
With its stock shares plummeting, and in a world where presence is key, it may have to reconsider its strategy of attending such events before Samsung's success becomes too powerful to compete with.