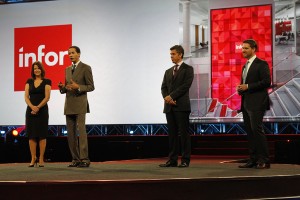 By coupling the spark and drive of a successful start-up with some real business sense, Infor has become much more than a thorn in the sides of SAP and Oracle.
According to Infor's CEO, Charles Phillips, the firm's unofficial tagline is "the world's biggest start-up". Certainly, no-one could accuse Infor of being a small company – the firm posted about $2.3 billion in revenue last year. What's more, it was recently rated by Business Insider as the third most valuable private company in the world, a place behind Bloomberg and a place ahead of Twitter.
"We just happened to be the one that most people hadn't heard of yet," Phillips quipped during the keynote presentation at the Inforum customer conference in Orlando, Florida.
But can Infor still describe itself as a start-up? On the face of it, the statement seems a little like lying about your age when you're afraid of coming across as old. Having been founded in 2002, it's more than 10 years old and has more than 12,400 employees serving more than 70,000 customers. Sure, these are baby numbers when compared to the likes of SAP or Oracle, but they aren't the kinds of numbers usually associated with a start-up.
And with a huge event planned at one of the biggest convention centres in the United States, Inforum looked to be no different to the kinds of events organised by any of the other big technology vendors. Infor, it seemed, has grown up.
The thing is, as soon as the conference got started, and the first keynote session began, it was clear that Infor still had the spark and drive of a start-up. The presentation was delivered with the four top executives – Stephan Scholl and Duncan Angove, both Presidents, Pam Murphy, COO, and Phillips – on stage at the same time. They shared lines and quips like a close-knit, four-piece band might on the first night of a world tour. And the natural energy they emitted washed over the jet-lagged audience to create much more of a buzz than would normally be expected at a technology conference.
"We have 3,000 customers in the U.S., and have a 17-percent net licence growth," said Scholl. "We're now the third-largest software company. We're the third option, and we've eliminated the duopoly."
By that, Scholl was, of course, referring to the perceived notion that the only two choices when it comes to enterprise software vendors are Oracle and SAP. And that, he said, illustrated yet another reason why Infor is still a start-up – the company is disruptive, as a start-up should be.
Like any start-up, however, Infor has seen its fair share of problems, many of which came as a result of the massive growth that it has achieved over the past decade. At last year's Inforum conference, the firm said it was getting on track, having been on a huge spending spree – on both acquisitions and R&D – and that it had a lot of new products lined up. It sounded great, but, of course, many took the claims with a pinch of salt.
Infor's top brass must have felt vindicated at this year's conference, then, as the company reeled out new release after new release. The headliners included the 10x middleware platform, which features social, mobile, analytical and cloud capabilities; Mingle, a new collaboration platform; and ION, the new integration framework at the core of Infor's products. A new cloud service, called Sky Vault, also garnered headlines, thanks to being based on Amazon Web Services' still-beta Redshift platform.
With these products, Infor is hoping to go after "micro-verticals", as Phillips said during his keynote talk. Infor thinks it no longer good enough to simply go after the food and beverage segment, for example, or the healthcare business. These market segments vary enormously in their enterprise software needs, and Infor wants to target specific segments that want more than the one-size-fits-all products offered by SAP and Oracle.
Another way in which Infor wants to disrupt the enterprise software market is through the look and feel of its products. When talking about the user experience associated with the products peddled by Infor's competitors – and garnering a few laughs at their expense – Phillips came out with one of the most memorable lines of the conference: "The bottom line is enterprise software sucks."
Of course, he wasn't referring to his own company's software, because Infor's products have had a going over by Hook and Loop, the firm's new in-house design agency. Made up of advertising experts, movie effects buffs and app developers, Hook and Loop is a trendy creative house charged with consumerising all of Infor's products. And judging by the product demonstrations at Inforum 2013, the firm is miles ahead of the competition in terms of user experience.
That said, Infor freely admitted to the conference audience that it had been lagging behind in terms of training and education. Because of its acquisition spree, and the lack of any centralised learning platform, Infor was struggling to get its customers to make full use of the products. "User groups were telling us to invest in education, and we knew we needed to resolve this problem quickly," said Murphy on day two of Inforum.
To resolve the issue, Murphy said that Infor began to build a world-class education team, made up of industry experts who have made careers out of building curriculums. The firm also established a centralised platform to develop, manage and build content on.
With this, and everything else the executives explained, it really did seem as if Infor had all the bases covered. But with its start-up attitude and comparatively small scale of business, how far did Infor go in convincing its customers that they were looking at a top-notch vendor?
According to Ray Wang, Principal Analyst and CEO, Constellation Research, the firm did a better job this year in showing customer successes and a decent product roadmap. He also told CNME that customers who came to find solutions will have walked away with a feeling that Infor had identified their needs. "Because [Infor] are focused on apps, I think they will do well", he said.
Over the course of Inforum, Infor proved that it still held the culture of a start-up. It wanted to show that it took its customers on a case-by-case basis, and that innovation was still top of the agenda. Perhaps more importantly, though, it showed itself to be more than a simple thorn in the sides of Oracle and SAP – it showed itself to be a real contender.