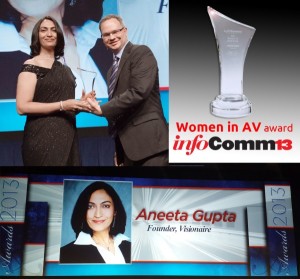 Visionaire has announced that InfoComm International has awarded Aneeta Gupta the Women in AV Award for the year 2013, making her the first woman outside of the United States of America to have won the global recognition.
The award was presented at the InfoComm 2013, the world's largest commercial audiovisual trade show held earlier this month in Orlando, Florida, USA.
The Women in AV Award was created by InfoComm to raise awareness on the growing role of women professionals in the field of audiovisual technology. The Women in AV award winners are in the upper echelon of AV professionals and symbolise the strength of entrepreneurship and excellence in developing tomorrow's AV talent.
"Aneeta Gupta has demonstrated extraordinary levels of professional knowledge, while taking time to improve the industry and better the lives of others," said David Labuskes, Executive Director and CEO, InfoComm International. "InfoComm is pleased to celebrate Aneeta's achievements."
Aneeta Gupta, the CEO for Visionaire started the company in the year 1995 with just two employees and since then it has grown to become one of the largest systems integrators in AV and IT. The company successfully developed a new business model for system integration called TECHNOMICS with 600 people supporting the organisation and its customers in the Middle East and other parts of the world.
Aneeta is an astute leader with tremendous vision that has driven Visionaire's growth from its tech-start-up 18 years ago to becoming an end-to-end service provider of integrated technology solutions. Her perseverance has led Visionaire to embrace the opportunities of early networked AV solutions, multi-site videoconferencing, central control, leading-edge digital signage, IPTV, telepresence and, most recently, unified communications and collaboration. Visionaire has earned recognition locally in Middle East and internationally by winning many industry awards.
A natural leader who is passionate and determined to bring success to those around her, Gupta believes in the empowerment of women, which has led to her nurturing several leadership positions in Visionaire. Currently, the heads of Technical Program Management, Procurement Management, Marketing and Human Resources are women. And in 2012, 80 percent of Visionaire's internship and trainee engineering intake program were women engineers.
Apart from her leadership role at Visionaire, Gupta mentors young entrepreneurs. She plays a leadership role as a charter member of TiE, a non-profit organisation dedicated to fostering entrepreneurship worldwide, with 57 chapters in 14 countries.