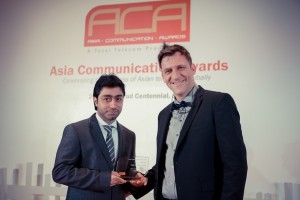 du recently announced that it is the recipient of The Green Award from the Asia Communication Awards, in recognition of its extensive green initiatives. The award was received by AbdulMajid Harmoodi, Director of Electro Mechanical Division, du, during a ceremony held at the Conrad Centennial, Singapore.
"We are thrilled to have received this recognition from the Asia Communication Awards. Sustainability is a core pillar of our company, and we are dedicated to reducing our environmental impact in line with our leaderships' vision of a greener future for the UAE. Our hybrid solutions have given us a significant reduction in CO2 emissions and diesel fuel consumption, and we hope that this provides an inspiration to other companies to venture into similar fields. Achieving sustainability is everyone's responsibility, and we are proud to be playing our part," said Saleem Al Balooshi, Executive Vice President Network Development and Operations, du.
Ayad Abul-Ella, CEO of Heliocentris Energy Solutions, the supplier of du's hybrid network technology, congratulated du on the win. "Our congratulations go to du on the occasion of receiving this award. We are proud that our hybrid power and smart energy management solutions have led to this win and we look forward to continue our contributions to du's green strategy with further energy saving innovations to come. This award is an exciting acknowledgement of the success such initiatives can lead to."
Amongst its many environmental sustainability schemes, du began converting its off-grid sites to smart energy hybrid solutions in 2011, in line with the UAE Government's strategy on sustainable energy. The hybrid power solution uses a combination of cyclic batteries and diesel generators, with a smart energy management controller to switch from one to the other upon the depletion of the battery. When the battery is recharged, the controller reverts from the diesel generator to the battery once more.
Since the project's initiation, du has reduced its annual diesel consumption by 1.8 million litres, and produced 4500 tonnes less of CO2 emissions. The company plans to convert 72 more sites in 2013, with the annual reduction expected to increase to 20 percent by the end of this year. By the end of 2014, du expects a total reduction in diesel consumption of 6 million litres, and 15,000 tonnes of CO2 emissions.