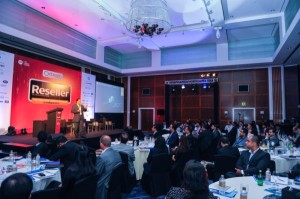 Given the record number of attendees at this year's Reseller Middle East Partner Excellence Conference, it was clear that the region's channel players wanted to hear how to tackle new challenges.
After all of the excitement of the Reseller Middle East Partner Excellence Awards on the evening of June 12, which you can read all about in the following pages, it was easy to forget that there had also been a hugely successful conference during the day.
Yes, the awards ceremony had celebrated the biggest and brightest in the Middle East's IT channel, but the Partner Excellence Conference was where leading channel players really got down to business. Featuring a packed agenda, covering everything from cloud to managing credit, the conference attracted upwards of 100 visitors, filling the Emirates Towers conference room to capacity.
Indeed, the ballroom appeared insignificant as the entire channel and reseller community came to witness the early sessions of what was widely touted as the most successful Partner Excellence Conference to date.
To kick things off, Jeevan Thankappan, Group Editor, Technology Division, CPI Media Group, delivered the welcome note before Basil Ayass, Managing Director, Dell, a well-known regional speaker, presented the opening keynote on channel transformation.
"Is transformation necessary in the channel?" he asked. He claimed that "aggressive discounts" were stopping the channel from prospering, and also focused heavily on how the smartphone craze dramatically changed the business landscape, particularly in the consumer segment, where, by his own admission, Dell has struggled.
"I call smartphones 'converged phones' – multiple functions in one device. Convergence changes industries – it turns them upside down," he said.
"We had channel partners focusing on different things – like cameras or GPS devices – but then the smartphone came and changed everything – it offered everything."
The presentation certainly offered food for thought, particularly as Ayass began to insist that the convergence of technology was happening in the enterprise sphere, too. Naturally, this followed a preview on a new Dell technology, which, Ayass said, would be a nightmare for systems integrators, because it's simply a plug-and-play device for the enterprise, eliminating the need for systems integrators.
"Who's a systems integrator here?" Ayass asked. "What do you think of this?" he said as a few hands around the room went up.
"I like it," said one, prompting a surprised look on Ayass' face. "If it's easy for my customer, then it's good for me – it's all about the customer, isn't it?"
Ayass finished his keynote saying that it was good that everyone was on the same page. Following Ayass, Ayman Dwidar, Indirect Sales Manager, Middle East, HP, began the second keynote speech, in which he covered the cloud's role in the channel, a key topic that continues to be of interest in the industry.
Dwidar claimed that there are three trends that are currently revolutionising the IT industry; converged infrastructure, cloud, and the software-defined data centre.
"The opportunity in private cloud is going to equal the opportunity in public cloud – the channel must start looking at the skills needed in order to prepare," he claimed.
He added, "Partners are looking at market opportunities, profit paths, vendor support, channel programmes, and how vendors will showcase their value."
For this, Dwidar said that the channel needs to begin looking at a completely new type of business model – the cloud model is completely different to the traditional model, he claimed.
"Channel needs to change," he said. "But the most important question is how. Vendors are not giving solutions on how they can assist change."
Dwidar suggested that, if a partner was serious about getting involved in cloud services, it could set up an entirely new business, which should be kept separate from the traditional business. This, of course, poses an element of risk, but Dwidar said that it was a plunge worth taking.
"You can jump early or wait, but those who have the nerve to experience new business models will lead in the future," he concluded.
Following Dwidar's presentation, the audience took a short coffee break, during which partners discussed what they'd just heard. Then it was time to hear from someone on the channel side, so Pierre Olivier Descoteaux, General Manager of Cloud Computing, Aptec – an Ingram Micro Company, took to the stage. Like Dwidar, he was covering cloud, though he was advising on which business model is right for the various partners in the audience.
Descoteaux started off bluntly: "I'm here to tell you that you're relevant and have a place, but, with cloud, you need to find a way to differentiate yourself," he said. "Cloud allows you to be in one place physically but offer service anywhere as long as you have an e-commerce strategy."
Following this, he went through the various business models that currently exist in the cloud sphere. A lot of partners, he opined, would probably go for a brokerage model – setting up contracts between end users and cloud service providers – though he also said that some partners have already begun to set up their own private clouds for customers.
"There are two models resellers can choose to be today – broker or cloud solution provider." Descoteaux said. "Gartner says that 25 percent of cloud traffic from 2013 to 2016 will go through brokers. Resellers can be consultants, customisers or integrators.
"If you decide to be a cloud solution provider, you can host everything in a colocation facility and offer cloud services yourself. But the advantage to being a broker is to have an offering in 48 hours and to start offering cloud solutions straight away."
Certainly, Descoteaux said, the two different models will suit different partners in different ways. That said, some partners could be forgiven for waiting on the fence for the moment when it came to cloud computing – after all, the market is still young.
"The market is early right now. We still need education around security, location of data and the challenges of the cloud," he concluded.
It would be fair to say that the morning sessions of the conference were pretty cloud-heavy, then, but partners had little time to digest all the information before the agenda moved on to the next hot topic – leveraging transaction data to better manage credit. Since the credit crunch, the industry has been on the look-out for guidance on how to manage credit, so the next speaker, Vasudevan K. S., Director, Navo Informatica, had the undivided attention of the room.
"Credit has been a constant nightmare for all of the reseller community," he said in his opening note. "We need to focus on what we can control – the main two are operational efficiencies and risk management.
Vasudevan than gave an in-depth demonstration of how to achieve this. It may have gotten a little technical for some of the partners, but the others, who have been struggling with credit for some time now, kept watchful eye on every single slide.
Following Vasudevan, though, the conference moved swiftly on to the retail side of the channel – next up was a panel discussion featuring two of the region's biggest consumer electronics heavyweights, Ashish Panjabi, COO, Jacky's Electronics, and Neelesh Bhatnagar, CEO, Emax.
Panjabi kicked things off with his view on the changing landscape of retail. "Things have changed. Retail will continue to evolve and, with that, also is the relationship between vendors and distributors," he said. "What we need to address is how we are measured – vendors and distributors are measured in different ways."
Bhatnagar than weighed in, speaking about power retailing and its effect on vendors. He said, "The concept of power retail has really brought the branding of the product into the forefront – it's here to stay. But vendors don't understand the concept of power retail very well. Some are shooting us in the foot by squeezing margins."
Indeed, the great margins debate went on for quite some time – as it would in any discussion about reselling boxed technology, be it in the retail sphere or not.  The conversation then moved toward the importance of customer experience.
"The customer experience part has grown," said Panjabi. "Some stores in the US and Europe look like warehouses – that wouldn't survive here."
The last big point came when e-tailing and online shopping was brought up. While Europe and the United States have now got mature e-tail markets, the concept is only just gaining traction in the Middle East, so the two panelists discussed how best to get on board.
Following plenty more discussion – featuring more on power retailing, e-tailing and social media – it was time to move on to the second panel discussion of the day.
This panel was set to tackle the issues surrounding the new face of distribution, and it was a cracker of a conversation from the get-go. The discussion talked on everything from securing good business relationships to how the market can create better margins.
Value-added services came into the mix, too, as did the expectations that vendors now force onto their distributors. Some of the panel members felt that vendors set unrealistic targets, garnering approving nods from their partners in the audience. Indeed, vendors, as a whole, took a bit of a bashing from the panel as a whole. Meanwhile, when the cloud conversation came up, one member said that there is no role for distributors to play in the cloud, but they could eventually fill a provider role.
There was too much to cover in these pages. Suffice it to say that the panel agreed distribution was indeed changing, but the Middle East was reasonably well-placed to deal any upheaval. Following the discussion, it was time for a technical masterclass from Sudheer Subramanian, Senior IT Solution Manager, Huawei Enterprise. His job for the session was to advise on how to maximise cloud technologies in the Big Data era.
"Big Data can be defined through the areas of volume, velocity and value," he said. "When we talk about cloud, all functions need to be 100-percent virtualised for it to be cloud. The functions are not just about the server, storage or network – all aspects must be virtualised up to the application level. The problems related to Big Data are complex and long-term because most of it is unstructured."
Subramanian then dove into a highly technical presentation on what can be done to get around these problems. It may have been a little heavy for an after-lunch session, but certainly the more technologically curious members of the audience paid close attention.
The final speaker of the day was Khwaja Saifuddin, Senior Sales Director, Western Digital, who got up to speak about the storage landscape – a topic many resellers are struggling with as the demand for storage continues to grow.
"If we break it down, everyone is creating and consuming data, which needs storage to store it in," he said. "The amount of data created, replicated and consumed in a single year is growing at an annual rate of 46 percent."
Following an illuminating presentation on how to address challenges related to storage, there was time for one last panel discussion, which tackled perhaps one of the most pressing issues in the channel today – partner profitability.
The discussion was heated, with partner and vendor representatives arguing over whose responsibility it was to market products, thereby creating demand. Indeed, that conversation went on for a little too long, though the panel members all agreed that more focus needs to be put on marketing to create demand, which will then lead to greater profits.
Other members said that partners needed to look at the structure of their businesses. Meanwhile, another said it was all about securing good relationships with both customers and vendors. Two of the vendor partners then said that they encourage their partners to specialise, meaning they can diversify into untapped market segments.
Again, the scope of the discussion would warrant its own article, but it certainly provided a fitting end to the day. And judging by the number of partners who managed to take time out of their schedules to turn up, it was clear that there was a real need for these issues to be aired out in public. No doubt most walked away with a little more knowledge.