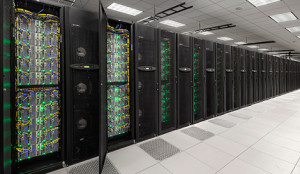 It would be easy to say that, in the Middle East, open-source storage has even less of a foothold than in the rest of the world. Ask any CIO, and there's an enormous chance that he will have procured his storage solution from a big-name vendor—open-source doesn't even come into the conversation.
And yet supporters of open-source storage have been making more noise over the past couple of years, particularly as Big Data—and, inevitably, Hadoop—have garnered more headlines. Open-source storage solutions that used to be considered extremely niche have been used for various new applications, and these applications are getting users across the world excited about the possibility of doing things a little differently.
"While open-source storage solutions have existed for a long time, they were mostly relegated to being niche solutions. However, there are clear winds of change now. A growing number of organisations are increasingly drawn to open-source frameworks (such as OpenStack, Hadoop) for reasons of flexibility, customisation and cost," says Arun Chandrasekaran, Research Director, Gartner.
In the Middle East, however, it can fairly conclusively be said that the big storage vendors control the market. And while CIOs might not be content having to write out big cheques for these vendors, they have yet to find reliable solutions with which to replace them.
"The reality, until some time ago, was that there were very few data storage vendors who would provide reliable solutions. These vendors could demand premium prices because of the SLAs, the reliability, R&D and the millions of dollars invested by these companies in reference architectures and environments," says Shashikanth N., Sales Manager, StorIT Distribution.
"However, with increased consolidation of the industry and the components becoming reliable, the cost of the total storage started coming down. Inversely, the need for storage or the capacity and performance increased. Hence, the companies which have years of investment and innovation have been able to sustain and demand the premium price for the quality of delivery."
That said, there has been a shift when it comes to the cost of traditional storage, Shashikanth says. He believes that the focus has now begun to shift to software, rather than components, though this shift didn't exactly work out in the customer's favour.
"Companies which relied on OEM equipment were at the mercy of the development at the OEM and the companies which invested in their own R&D of software, like EMC, sustained and stood as leaders. CIOs had fewer choices and their applications also did not throw them any new challenges to see a drastic shift from the silos," he says.
What's more, according to Chandrasekaran, customers are wary of moving away from the vendors that they have been traditionally with. One of the factors behind CIOs being willing to hand large cheques over to the big vendors, he says, is that it's a daunting task to migrate.
"Storage migration projects are not only complex but users stick with specific storage solutions and incumbent vendors, due to fear of data loss and operational disruption. Unlike servers, which are stateless, changing storage suppliers requires data movement and often taking an application down," he explains.
But say a migration is on the cards, should an open-source solution be considered in this day and age? What's more, why aren't more CIOs thinking about open-source?
According to Megha Kumar, Research Manager, Software, IDC, the second question is easy to answer. He believes that one of the main barriers to open-source storage uptake in the region has been skills. "In a region that already suffers from finding the right technical expertise, finding the skills to manage an open-source storage system would be a challenge."
The other key barrier, Kumar says, is awareness: "CIOs are not aware of their open-source options, or the level of functionalities that are available. This is slowly changing as telco and transportation organisations in the region have begun exploring open-source frameworks such as Hadoop."
Indeed, Big Data and Hadoop seem to provide one of the main arguments for adopting open-source storage. Zaher Haydar, Senior Regional Manager, Systems Engineers, EMC, explains that his company is keeping a close eye on open-source storage developments, as they could help the industry to create solutions that are more suitable for Big Data environments.
"We believe open-source is a good trend, especially when it comes to applications around Hadoop, Big Data and analytics. It is helping the industry to create newer solutions that are more robust," he says.
Haydar's words do, however, come with a proviso. He explains that, to really get the best out of open-source, proprietary technology should be added to the mix. After all, the big-name vendors have been masters of storage for decades, meaning that they still add a lot of value to the overall proposition.
"There is always room for some proprietary code that has specific, optimised features that have matured over many releases over many years," he says.
The big question, though, is whether open-source storage can save on costs while delivering the same—if not better—performance as the big-name storage does. Unfortunately, experts differ in their answers. IDC's Kumar, for example, explains that, yes, open-source storage can provide greater levels of cost-effectiveness. What's more, with open-source, there's no vendor lock-in, he adds.
However, EMC's Haydar doesn't buy the argument that open-source storage will always be cheaper.
"The proposition that open storage is inherently cheaper does not hold easily. There are lots of best practices that we have been fine-tuning and developing over the years in order to optimise the storage infrastructure. These best practices are helping the customer in reducing their TCO for storage infrastructure. The new open storage solution can't easily replace all these existing best practices and they are not mature and tested enough in order to support mission-critical systems. This is why the adoption is very low and will continue to be like that for some years to come," he says.
Aside from cost, however, there are other benefits to at least considering open-source storage, as StorIT's Shashikanth explains: "Any open-source technology has a few basic fundamentals wherein the community has developers and contributors from different sources. In the storage industry, this was possible as consolidation of the hardware happened and the power got transferred to the software layer. This gave the code development community the power to use the overlaying software to derive the best out of the commodity hardware or compute," he says.
"Open-source storage is commoditised and can be transformed to newer technologies. This is easier and the specific needs of a community can be custom-developed and is neither affected by the hardware variance nor vendor-dictated. The biggest advantage of cost of retention, servicing, using and phasing out the systems just got substantially lowered with no or minimal affect on performance."
Unfortunately, such arguments are hardly doing wonders to convince CIOs in the Middle East. Even Shashikanth admits that the traditional storage vendors are known for their resiliency in mission-critical environments. "CIOs buy into traditional storage because it's a one-stop shop," he explains.
And Gartner's Chandrasekaren conveys a similar point: "Traditional storage continues to maintain its appeal for enterprise applications that demand high availability and performance. In addition, the external controller-based (ECB) disk storage market is not homogeneous. Storage procurements are closely tied to use cases such as server virtualisation, virtual desktop infrastructure (VDI), transaction processing, analytics, collaboration, back-up and archiving, which allows vendors to innovate and differentiate for specific workloads and use cases," he says.
Luckily, however, CIOs do not need to go completely open-source when it comes to storage. A number of vendors are already experimenting with open-source storage, and coming up with their own solutions, based on open-source. Companies like Red Hat and solutions like Hadoop pay testament to that fact. As a result, according to Kumar, more open-source alternatives will begin to see uptake within the region.
"Companies will begin to engage with organisations that provide open-source storage software and provide support at a cost," he says. Open-source solutions are already impacting the storage world, though their uptake in the Middle East, he warns, will be dependent on the availability of skills and support.