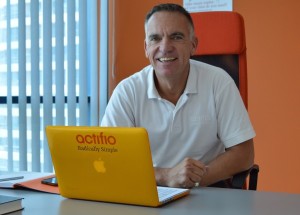 We caught up with Actifio's MEA General Manager Grant Amos, who discusses the challenges his team face in the Middle East and the importance of effective POC's.
What challenges do you face in this country?
There's a lot of process. Compared to the European or US markets, where if you present a justifiable business case then you can sometimes get a quick purchasing decision, in the Middle East we've found that although you can create all the right opportunities, companies still need to go through a lengthy procurement process. They want changes to the price and often have to go through a lengthy RFP process. One of the biggest issues we face is the length of the sales cycle, which presents problems because things change. We've had many situations where we've worked with companies for a long time and then the CIO changes, or strategic or market changes take place midway through a 12-15 month sales cycle.
When you look at mature markets, they have developed complexity over time whereas in younger markets, they don't have that and still us a multitude of products. This presents greenfield opportunities so companies can look at one product rather than five or six. As a relatively new mover, companies can be skeptical of us but we're familiar with the question of whether our offerings are 'too good to be true.' It's our job to try and find ways to demonstrate that that isn't the case. We're running a lot of POCs which has been made easier with our software-only product. Our POC is simple – we capture a company's data and take incremental point in time images of that data and recovering it to any environment.
Which verticals are you targeting?
We're pretty much independent of verticals, but banks are a main target because of the criticality of their data in terms of protection. We want to target the government side of things as well.
How are your products able to combat those constantly changing cycles?
The good thing about our solution is that it can scale. When we started we focused purely on enterprise, and as the product has evolved we now have a software-only variant. That means we can target the mid-range market and point solutions such as agility around test development and resilience around backup and recovery. These offerings are giving us a greater stretch into the market with the same product, which is totally scalable from hundreds of gigs to petabytes of data.
There's a lot of competition in the Middle East, which can get messy. We're looking to identify the sweet spots for our solution. One of them is around test development where we can change the way that people do that across their whole physical and virtual database environment in terms of speed and provisioning, reducing application cycle. Other areas include data growth; the implications of Big Data in database environments is that larger databases are needed in enterprise environments. That means that companies struggling to backup these larger data quantities and meet client requirements. Our technology effectively removes backup windows for any size of data and recover any size of data near instantly. We're making jumps into areas where customers have issues with compliance and regulatory control.