Though Seattle born vendor, WatchGuard, has a healthy presence in the Western world, the company is keen on expanding its brand in the Middle East. The company's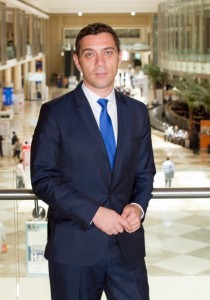 sales VP and newly recruited regional manager explain that a lack of brand awareness has stunted their growth, but being the "nice guys" who are willing to tackle areas which the major players won't is sure to take them to new heights.
It's hard to put your finger on it. WatchGuard has been in the Middle East for around seven years but still claims to have some major branding issues. However, the Americans clearly understand regional expertise and have recently employed the services of John Spoor, who has been in the area for the past six years, to elevate the company to a new level in the Middle East.
But how does a company which cannot possibly challenge the likes of Cisco, size wise, go about this? WatchGuard claims that being a smaller, more dedicated, less arrogant organisation is the key.
"Larger companies who've been successful for ten years or so become arrogant – in ten years we will become arrogant, but at least that gives us ten years with our resellers," jokes Ortodoro.
"We're over 100 percent channel, I say. We're 100 percent channel, 100 percent of the time. We don't deal with services, and we don't sell directly. It's all about our partners here."
Ortodoro claims that WatchGuard's key differentiators appear in a few stand-out ways. Firstly, he claims that many larger companies aren't willing to approach resellers in areas that may be seen as 'the middle of nowhere', and secondly, that they pour extra money into renewal, as opposed to just focusing on new partners.
"Every region has its own middle of nowhere. Big companies don't want to go there – we do. Because in these areas, you'll find one or two lonely resellers who are looking for your help, and there we are. If I do a seminar in Paris or London, I'll attract maybe ten or 12 people, because I'm not Steve Bullmer or Bill Gates, I'm just Philippe, and nobody cares. But if I go to Swindon, or Ipswich, a place I know well, in the UK, which is a nightmare to get to, then I'll attract around 70 people, because they really appreciate the effort."
The next step
Ortodoro says that the next step in the plan is to execute the marketing strategy on a regional scale, in order to cash in on the investment made here in the Middle East.
WatchGuard has a team made up of five people on the ground in the UAE; two distributors and three WatchGuard experts, and this team is responsible for driving the marketing of the brand and attracting new partners. But WatchGuard won't take any old reseller on.
"The company needs to be a fit – it's needs to be of the calibre we're looking for. Usually, we will enter into talks with a customer, explain the product, discuss the needs, and then when we've determined that they're the right customer for us and our product is something they can benefit from, instead of doing the direct business, we introduce them to our reseller," he explains.
"The reseller can then choose to work with either of our two distributors; Logicom or Comguard, and then they move forward from there. We don't ever trample on the reseller or integrator, no matter how big the customer. For example, we have Etisalat, that's a major customer here, and some big companies would see this and say that they work through the channel 100 percent of the time but not this time, and take over – we don't. We have absolute faith in our partners."
On top of this commitment, Ortodoro stresses that WatchGuard is also well aware of the importance of margin.
"Margin is good with our products, and that's the most important thing for our partners."
However, Ortodoro claims that in fact it's the services which give the most rewarding margins, saying that the product to services margin ratio is one to three.
"It's a high work rate that we have in place, but the benefits are high too," he says.
The goal
Ortodoro believes that WatchGuard's underlining passion and dedication to its partner programme can help it achieve its goal of winning more partners here. He claims that WatchGuard wishes to spend money with small integrators which are passionate, interesting and enthusiastic.
"It's all about them – I've said it one million times before; if they don't grow, we don't grow. If we want to grow 25 percent, we work 25 percent harder – it's as simple as that."
The new guy in town
And to demonstrate that its commitment to the region is to be taken seriously, John Spoor was drafted in no more than a month ago to take the helm of the WatchGuard Middle East ship. Outlining his initial deliverables, he says that WatchGuard is facing an opportunity of real growth in the region, and even claims that it's hoping to extend its ground force into Saudi Arabia.
"My first challenge is trying to convince Philippe to expand our marketing budget," he laughs.
"But the real challenge, and mission, is to make sure that we get a return on every marketing dollar that we spend. We spend wisely and choose our partners in an educated manner, building them up to an educated level. This is very important to us, and so to push that, and press on our marketing to increase our brand awareness is certainly top priority – I'm confident that revenue will follow."