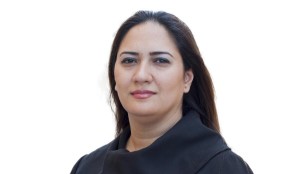 THE DEFINER
Asal Jafarzadeh, COO at EMT Distribution is armed with 15 years of experience, out of which, 10 years have been in the IT field. Her interest in dealing with different people, companies and culture eventually led her to transition from finance to IT. Working with large IT companies in the region and continuous interaction with channel partners further cemented this decision. She says, "Our team needs to feel at home, one of my main aim is to make sure the most valuable component of our company remains happy and at the same time is efficient, on the other hand our channel partners need proper back-end to be able to provide support properly."
For Jafarzadeh, new challenges, new technologies, friendly work environment and innovation keeps her motivated and excited about work. Another source of motivation, is her husband, who has been a great role model, she says. Describing herself as determined and goal-oriented, she says the main challenge in the channel business today is credit and competition. "On one hand, partners expect us to be flexible and on the other, we need to be very careful about our operations too, so it is not an easy job to satisfy both parties," she explains.
She is very clear about how to be successful—define a goal and focus to achieve it. "Everyone can achieve their goals by focusing on what they want to do and by separating personal and career life," she says.