TahawulTech.com Future Security Awards celebrated and recognised accomplishments in the regional IT security landscape.
The Future Security Awards kicked off at the Habtoor Grand Hotel in Dubai and recgonised individuals and organisations who have shown prowess and leadership in building the foundation of a digital future with security innovation.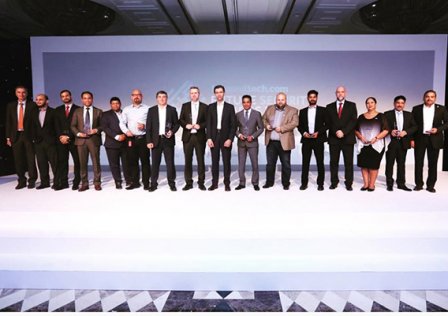 The 2018 edition of Future Security Awards ceremony was attended by 200 industry stalwarts, and recognised 20 organisations and IT security leaders.
Future Security Awards received over 150 nominations from both end-user and vendor categories. Winners were chosen by a panel of esteemed judges who have evaluated the set of nominations from across the region in a ten-day process to decide the most-deserving candidates. The judging panel is comprised of Bhavani Suresh, president, ISACA UAE Chapter; Irene Corpuz, Manager for Transformational Projects, UAE Federal Entity; Javed Abbasi, principal consultant and founder, GISBA; and Megha Kumar, research director, Software and Cloud, IDC META.
Here's the full list of this year's winners:
| | |
| --- | --- |
| End-user categories | |
| Best IT Security Project – Private Sector | RAKBANK |
| Best IT Security Project – Public Sector | Dubai Municipality |
| Most Outstanding Security Team | Network International |
| Personal Contribution to Security | Tushar Vartak, Director of Information Security, RAKBANK |
| Top CISO/CSO Of The Year | Ahmad Al Emadi, Dubai Municipality |
| | |
| Vendor categories | |
| Best Anti-Malware Vendor | Kaspersky Lab |
| Best Anti-Spam Vendor | Sophos |
| Best Cloud Security Vendor | Check Point |
| Best Encryption Vendor | Endpoint Protector |
| Best Identity and Access Management Vendor | Cisco |
| Best Managed Detection and Response Service Provider | Paladion |
| Best Managed Security Services Provider | Help AG |
| Best Mobile Security Vendor | ManageEngine |
| Best Network Security Vendor | Juniper Networks |
| Best Security Systems Integrator | AGC Networks |
| Best Security VAD | Exclusive Networks |
| | |
| Editor's Choice | |
| Editor's Choice: Vulnerability Management Provider | Ivanti |
| Editor's Choice:  Innovative Security Distributor | Arrow Electronics |
| Editor's Choice: Network Security Vendor | Barracuda Networks |
| Editor's Choice: Cloud Security Vendor | Fortinet |