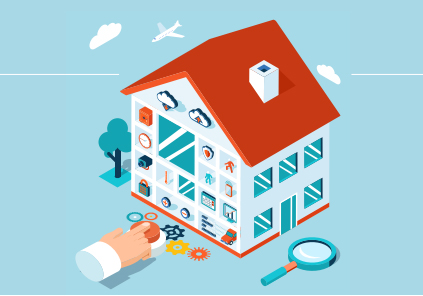 The next big culture shift in consumer technology is clearly home automation, and both Google and Apple will have a lot to say about it in the coming days.
Over the next two or three years, a dizzying array of home appliances and devices will connect with your phone and TV box to make everything "smart" – which, let's face it, is a euphemism for "more fun but also more expensive and complex".
In fact, 'home automation' isn't a great name because manual control of household objects is a major benefit. So, let's call it "smartification."
As with all mainstream technologies – including PCs, laptops, mobile phones, tablets and now wearables – smartification is something that has existed for years as a technical hobby. Now, it's about to become something ubiquitous.
Soon, everybody will be rushing to buy doorbells that connect with your smartphone to show you who's at the door, lights that can turn any colour, coffee pots that brew based on the traffic and hundreds of other smart products.
The mainstreaming of this category begins now – I'll get to that in a minute. But first let's be clear about what "home automation" is and how it's changing.
The buzzword that's associated with home automation, and about which there's too much confusion, is the so-called "Internet of Things."
IoT is nothing more than an overly broad and extremely generic label slapped on any kind of device that's not a "computer" per se but has a low power radio in it for sending or receiving data, and a low-power chip for processing instructions. IoT technology also includes the electronics that provide some level of access to the functioning of the device.
Home automation is simply the domestic, consumer wing of the IoT.
And now, I'll explain why home smartification is going mainstream.
Google's annual developers conference, called Google I/O, was last month in San Francisco.
A tech news site called The Information revealed recently that Google is working on an IoT operating system code-named "Brillo" that will probably ship as a version of Android.
This appears to be a wholesale rethinking of the home automation approach Google took three years ago when it announced a platform called Android@Home. Google launched big – then nothing happened. The whole initiative kind of fizzled, and Google stopped talking about it.
According to The Information, one key feature of Brillo is extreme lightness. It can reportedly run on devices that have as little as 32MB of RAM. Note that the current version of Android barely functions on devices powered by the minimum spec for the operating system, which is 512MB.
That will keep costs down, meaning Brillo-powered devices could be installed affordably in inexpensive home devices like light bulbs, doorbells and shower heads. It also means they won't gobble up too much battery power.
Another difference between the Android@Home approach and Brillo is that the Android@Home project was all about home automation, while Brillo is for the whole IoT, including home automation.
The biggest and most significant change at Google since the Android@ Home nonstarter was the company's acquisition of Nest.
Nest was founded and headed by former iPod chief Tony Fadell, who now runs Google's home automation group.
The company has a clear design philosophy, which it applied to its first product, the Nest Learning Thermostat, and its smart smoke detector, the Nest Protect.
Also significant is that Google also acquired Dropcam, a smart home camera company that's now part of Fadell's Nest group.
All of those products are the best of their kind, and they offer extreme simplicity, ease of use and automation.
What's interesting about Fadell and the Nest group is that it's run almost like an independent company. I think we can expect to see more good products coming out of Google's Nest group over the next few years.
While it seems reasonable that at some point Nest products will run Brillo, for now Brillo looks like the platform that other companies will use to build hardware and services on top of, while Nest is Google's hardware and services option for home automation.