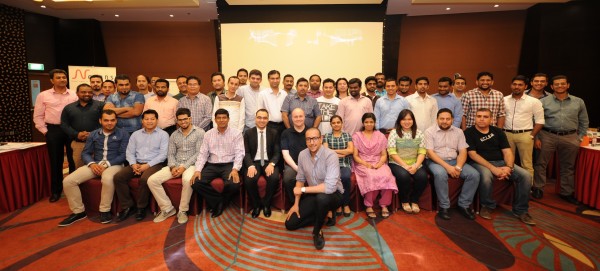 Nexans has conducted a three-day intensive Certified System Partner (CSP) Training programme for their resellers and partners at Crowne Plaza Doha – The Business Park.
The event was held in co-operation with Nexans' distributor in Qatar M/s Al Bawakir Enterprises, and was led by Alain Geypens, Training Manager from Nexans Belgium. Participants who successfully completed the training programme are now eligible to apply for a 25 years warranty certificate from Nexans including the labour warranty.
Mavy Pereira, Sales Manager, Nexans Cabling Solutions said, "At Nexans, we believe in order for our customers to receive the best service and installation support from our partners, our partners need to be well trained on all aspects of Nexans including features and benefits of our products, installation rules and guidelines, installation practice and testing and post implementation support. The transmission quality of a cabling installation depends on the cabling system used as well as on the installation itself and the three-day intensive training that Nexans conducts ensures that our partners are well equipped to handle large and complex projects."
The trainings were divided into different modules which addressed different topics which helped the participants improve their knowledge and skills in the cabling domain. The topics covered during the training included LANmark copper and fibre systems product range, standardisation and design rules for local area networks (LAN) Systems, testing copper and fiber structured cabling systems Installation Rules and Guidelines, Expert knowledge, Hands on training, Installation Practice & Testing for CAT 6A/Class EA links and optical fiber systems, LANmark-7A GG45, and Nexans toolkit.