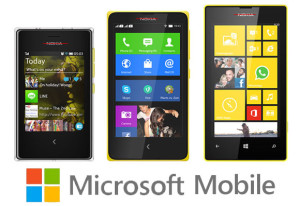 Microsoft has finally closed its $7.2 billion acquisition of Nokia's handset business, and now has an added opportunity to impose its 'Microsoft Everywhere' approach on technology.
In spite of evolving technology markets, Microsoft had retained its dominance in the PC arena, though the acceptance that its failure to tap into the smartphone market has been addressed with the acquisition.
Meanwhile, Nokia's gradual decline from being the go-to company for mobile handsets in the early 2000s has now seen its fourth-quarter handset revenue take a 29 percent hit from a year earlier to €2.63 billion.
Former Nokia CEO Stephen Elop has been appointed as the new head of Microsoft's Devices Group. That group, Microsoft has said, will add Lumia smartphones and tablets, as well as Nokia mobile phones, to its existing portfolio, which already included Microsoft's Surface tablets, its Xbox gaming console, and hardware accessories such as keyboards and mice.
Following the deal, speculation has increased that Nokia could finally be the recipient of smarter hardware and software, which will equip it for a battle with Android and iOS in the smartphone market.
The deal sees Microsoft take control of more than 90 percent of all Windows Phones with Nokia's Lumia lineup, and the company will also acquire the low-end Asha brand, Android-based Nokia X handsets, and feature phones.
Although Nokia is not the powerhouse it once was—particularly in the smartphone arena—it remains the No. 2 seller of mobile phones in the world behind Samsung, but the vast majority of these are not smartphones.
Nokia sold 251 million mobile phones last year, only a small portion of which were running Microsoft's Windows Phone operating system.
The move will see Microsoft take a more aggressive—and necessary—move into the ever-increasing smartphone market, which Huawei predicts will have eight billion users by 2025.
New Microsoft CEO Satya Nadella has indicated a greater willingness to work with platforms other than Windows, and will be working closely with new Nokia CEO Rajeev Suri, Nokia's former Networking unit head.
Closer to home he'll look to extend his company's software-and-services reach, and with any luck will engineer a move away from Windows 8, the operating system that hasn't done much for the behemoth's popularity.
By selling the handset unit, Nokia is turning its attention to wireless-networks gear, mapping technology and advanced technology, which includes a substantial patent portfolio. But parts of those businesses were weak in the fourth quarter and the near-term forecast is bleak.
Whatever direction they take, it promises to be an exciting move that hopefully see the two knock up some fresh and innovative products that could allow them to compete with the likes of Apple, Google and Samsung.