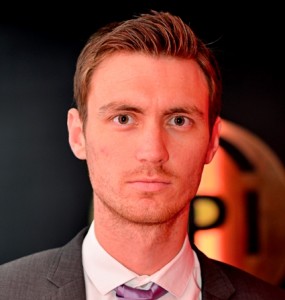 If there's one thing I've learned in this industry, and I hope there is at least one thing, it's that you shouldn't get over excited about seeing a busy month come to an end. The reason being is that the following month is sure to be just as occupied with meetings, events, launches, lunches, late night dinners and of course, overseas conferences.
This month I was invited to SAP's rather large and impressive Sapphire Now conference in Madrid. It was to be my largest event to date for CNME, a really big deal. History will tell you that I'm prone to causing chaos, or more fairly, prone to being surrounded by chaos, and with this in mind I was determined to see this trip out with fewer hiccups than a sleeping baby.
I arrived for my flight on time, which was only 20% full. I had two seats to myself, which is an absolute victory for me, seeing as I'm unofficially labelled as 'freakishly tall' and walk somewhat octopus like (according to a few of my colleagues), though I never understood this reference, I've as many limbs as anyone else in the office and I don't really like water, but that's fine.
Once I'd arrived in Madrid, I enjoyed the metro before arriving in my wonderfully modern hotel, which greeted me in voice (more than I get at home, which is a usually a lifeless grunt upon my arrival), I was happy. My trip thus far had been plain sailing.
However, sometimes some things are just out of your control. No matter how hard you try to keep each plate spinning, one is bound to topple and smash – and I have smashed a lot of plates in my time. My toppling plate this month just so happened to be in the form of anti-austerity protests in the city centre, halting public transport and waking herds of yobs – brilliant.
I don't like crowds, I don't like loud noises, and, though I've not given it much thought, I don't lust after gang violence and being struck by solid objects either – all in all; I'm pretty docile. Protests aren't docile.
Fortunately, we live in the age of social media. Something I am an advocate of.
Instantaneous updates, images, warnings and diversions delivered directly to your personal device, or as I had rebranded mine; The Ultimate Protest Protector (Protest Buddy for short).
The role of social media in glorious world events such as the Olympic games, the Presidential Election, and breaking offers in Waitrose, etc, is no longer in doubt – we need this accessibility. However, I had never before assumed that technology would save my life, yet it was about to.
On the day of the protest, I woke up and made my first check – things had started badly, as Wall Street Journal columnist, Simon Nixon tweeted "General protest means no breakfast in Madrid airport, not even coffee *tries to stay calm*" – "Heck!" I said aloud, as I took a deep breath, "this is worse than I thought." If an event so fierce could halt Europeans from serving coffee, it's an event I didn't want to be a part of.
I set about my plans to keep in control of this fearful day. I set up tweet updates from a number of European journalists, meaning I would receive a notification every time one of them tweeted during the day. I set up Facebook notifications for any status mentioning Madrid protests, and ordered friends and family to be alert to the obvious dangers too. I was prepared, and my mother always said; 'it's being unprepared which isn't cool'.
I left the hotel and took to the streets, cautious and hesitant all the while. I checked my Protest Buddy, nothing, not a peep. "Perfect," I thought, my intuition and instinct had led me across this wonderfully beautiful city whilst avoiding all conflict, minus a momentary spat with a begger who had eyes for my chorizo.
My mood had turned, I was loving Madrid. I was having flashbacks of my childhood holidays here, eating tapas with my family and shouting te amo to everyone I saw because it was all I knew. I was at peace. But then things changed. All of a sudden I exited a quiet street and was surrounded by screaming people. Utter chaos had just sprung itself upon me. Flags, spray paint, hoodies, foreign chanting, and it wasn't 'te amo'. I grabbed my Protest Buddy – 'why have you let me down like this?' I declared. The volume of anger grew, the air became warm and my memory ended here.
Weeks later, here I am, home, safe, recovered. How could I blame technology for this betrayal when I hadn't considered the one obvious flaw in my plan; international roaming?