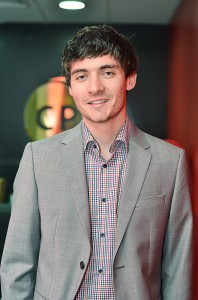 When you stage a conference in Las Vegas, there is always the risk that the attendees succumb to the evil lure of temptation that 'Sin City' offers them.
After visiting the crazy place a couple of years ago with friends, I couldn't get my head around why it was such a popular destination for conventions.
So when I was invited to report from Interop Las Vegas 2012, it was time for me to see just how practical working in the entertainment capital of the world is.
One thing's for sure – they don't make it easy for you. To even get to the Mandalay Bay Convention Center, where the conference was held all week, I had to walk through the hotel's massive casino.
Now I'm not big into casinos, but as the week went on – and my head was consumed more at more with talk of data centres, switches, networking and infrastructure – there's something about the lights and sounds of Vegas that after a while begin to speak to you.
It doesn't help that the old tricks of having no windows and – if you believe what they tell you – pumping extra oxygen in to keep people awake, lead you to eventually start believing you're in some weird alternative world.
Add to that the fact that Mandalay Bay possesses what was voted the best swimming pool in Las Vegas, which you also conveniently have to walk past everyday to get to the conference, and that lure of temptation is complete.
With that in mind, it was to no surprise that a stand-out story of the week came from a gaming company. Only this was not a traditional Vegas-esque gaming firm, it was the social online gaming giant Zynga – otherwise known as the creators of FarmVille, CityVille and Words With Friends.
In the early days of Zynga, infrastructure was not an issue, said Allan Leinwand, CTO of infrastructure at the company. However, when FarmVille grew to 10 million day active players just six weeks after its launch in 2009, Zynga could not scale its infrastructure to meet the overwhelming demand. Fortunately, the public cloud was at hand for Zynga to leverage and prevent it from imploding.
Operating on the public cloud was easy for Zynga, and it served as a nice base to launch more games, including CityVille, which at the time was the fastest growing game on Facebook and as of February 2012 had over 46 million monthly active users.
However, at the end of 2012 Zynga decided it was time to do something very familiar to Vegas – roll the dice.
"We realised that we were renting what we could own. We wanted to own the base of our infrastructure. That base of our infrastructure would be the hidden gem and core component of our infrastructure plans," Leinwand said.
So Zynga decided to build its own private cloud. Calling it the zCloud, Zynga built everything from scratch, including a new data centre, network, orchestration layer and servers. It then built it in multiple geographies, interconnected it with fibre, connected it up to its social network partners and then integrated all the workloads from the public cloud to its new private one.
In November 2011 Zynga launched CastleVille fully on zCloud and it became the fastest growing game in Zynga's history, growing to five million day active players in just six days.
By launching it on the zCloud it saw a massive decline in data workload costs from the reduction of servers required compared to the public cloud.
After hearing this story I was convinced of two things. Firstly, Zynga's gaming and cloud success shows that the digital and social world of today even makes Las Vegas look old fashioned.
And secondly, I can finally agree that technology conferences and Las Vegas do indeed go together – as proven by my ability to write this blog whilst lying on a sun lounger at the Mandalay Bay swimming pool.