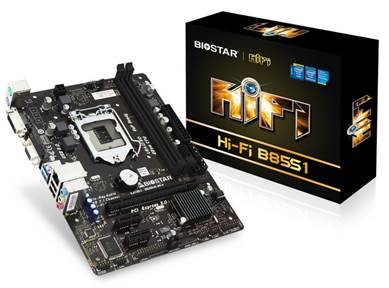 Hi-Fi B85S1 is a new motherboard based on Intel B85 single chip architecture by BIOSTAR has been introduced to the market. The Hi-Fi B85S1 supports Intel's 4th generation Core i7 and Core i5 processors in the 1150 package and is value designed in a Micro ATX form factor with 2 channel DDR3 slots for 16GB.
The Hi-Fi B85S1 features BIOSTAR innovative Hi-Fi technology, a built-in headphone amplifier and Super LAN Surge Protection which enhances Ethernet protections. Being an Intel B85 chipset based system, it comes with features like Intel Rapid Storage Technology (Intel RST) and Intel Small Business Advantage (Intel® SBA), which delivers business-centric security protection, such as after-hours virus scans and data backup, and blocks recognition of unwanted USB drives and Intel's Smart Connect Technology.
The BIOSTAR Hi-Fi B85S1 also fills entertainment needs with support for Direct3D 11.1 and HDMI. It has Blu-ray audio and provides an audio output of 24 bit/ 192KHz rather than 16 bit/48KHz from typical motherboards. In addition, the Hi-Fi B85S1 is the first to embed the "Double Hi-Fi" integrated AMP.
The Hi-Fi B85S1 boasts 100% solid capacitors and Super Durable Ferrite Chokes for power stability.
The Hi-Fi B85S1 is Windows 8 ready, and supports BIO-Remote2 and BIOS Online Update features for easy management as well as Charger Booster function for fast charging of cell-phones.
MSRP for the Hi-Fi B85S1 is available for USD 59.