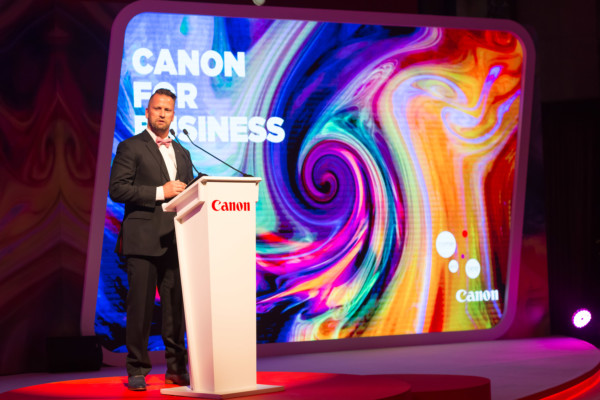 Canon Middle East has, last month, strengthened their business-to-business (B2B) offering with the launch of 12 new B2B products and solutions.  The new technologies were launched during an exclusive 'Canon for Business' event, which was attended by 150 C-level executives, IT chiefs, partners and key decision makers.
During the event, attendees were given on-site product demonstrations and shown how the full portfolio of Canon's print solutions, services and value-added support can help them grow their businesses.
"Our business-to-business division is targeting exponential growth over the coming years, and the Canon for Business event is a very important milestone in that journey within the region. Through this event we are renewing our focus on verticals, aiming to provide them relevant expertise and value. We are also making a bold statement of our focus, our direction, and reiterating our commitment to our valued customers and partners," said Hendrik Verbrugghe, Marketing Director, Canon Middle East and Canon Central and North Africa.
"Printing is an inevitable operation for any business and to make it as simple and convenient as possible, we are introducing our latest technology platform in the imageRUNNER ADVANCE series. This new shared platform will offer complete consistency & faster evolution. With a smartphone like user interface supporting industry-standard mobile print and scan functions, built-in Wi-Fi, NFC, BLE capabilities, consistent user and management experience across any fleet, our latest platform will now enable customers to work from anywhere, securely and with the right solution," he added.
According to Canon, the 12 new B2B products and solutions are designed to meet the increasing demand from both commercial and in-house print service providers ensuring enhanced throughput, ensure consistent colour, accurate registration controls, and flexible media handling and finishing
In addition to the new products, Canon also demonstrated its workflow solutions such as Uniflow, Therefore and IRIS in a specially constructed 'Enterprise Zone'.