Dell EMC, during the ongoing Dell EMC World conference, has previewed its latest portfolio of PowerEdge servers aimed at helping customers drive IT Transformation.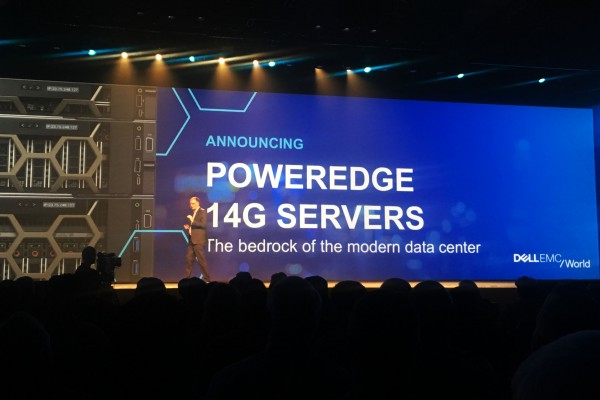 The newly designed 14th generation of the Dell EMC PowerEdge server portfolio, according to the firm, forms a secure, scalable compute platform that is the ideal foundation for cloud, analytics or software-defined data centre initiatives. The new portfolio delivers innovation in three key areas such as scalable business architecture, which optimises data centres for a wide variety of new and emerging workload requirements; intelligent automation via expanded APIs and the all-new OpenManage Enterprise console enable IT to spend more time on higher priority work; and integrated security, which protects customers' businesses and data for the life of the server
"In today's digital economy, technology must transform at the speed of business to develop and deploy new applications, optimise resources and deliver an ideal customer experience," said Ashley Gorakhpurwalla, president, Server Solutions Division, Dell EMC. "With our leadership in server technology innovations, the newest generation of PowerEdge servers are the bedrock of the modern data centre."
Legacy data centre technologies are not agile, flexible or efficient enough to meet the needs of businesses undergoing a Digital Transformation. In fact, the Enterprise Strategy Group (ESG) 2017 IT Transformation Maturity Curve study, commissioned by Dell EMC, showed that only five percent of survey respondents are currently prepared to meet the IT requirements of digitally transformed businesses with modern platforms.
PowerEdge 14th generation servers will be embedded in storage and data centre appliances, hyper-converged appliances and racks, ready nodes, bundles and other industry-leading Dell EMC solutions.
The new business architecture of Dell EMC PowerEdge servers will enable customers to meet dynamic business needs with performance optimised for traditional and cloud-native workloads, said the firm.
Dell EMC also highlighted that its new PowerEdge server portfolio has 19X more Non-Volatile Memory Express (NVMe) low latency storage than the prior generation, Dell EMC leads the industry in driving industry standards in NVMe via Express Flash. It also delivers faster results with one-click BIOS tuning enables quick-and-easy deployment of many processing-intensive workloads. Furthermore, it allows customers to access to the right data at the right time with enhanced storage capacity and flexibility, customers can tailor their storage configurations to their application needs, which is especially critical in a software-defined-storage (SDS) environment
The new portfolio also has new management features such including: OpenManage Enterprise, a new virtualised enterprise system management console with application plug-ins, an easy-to-use interface and customisable reporting; an enhanced iDRAC 9, which according to the company, provides up to four times better systems management performance over the prior generation; and ProSupport Plus with SupportAssist for reducing time to resolve parts failure by up to 90 percent.
Matt Eastwood, SVP, Enterprise Infrastructure and Datacenter, IDC, said, "Dell continues to grow its server business as a combined company with EMC. Its Dell EMC PowerEdge portfolio addresses a broad set of customer needs from traditional business use cases to cloud-native applications while offering a strong foundation to support future IT and business needs. Dell EMC has continued to invest in innovative technology combinations, which has resulted in a secure, scalable infrastructure and comprehensive solutions portfolio."