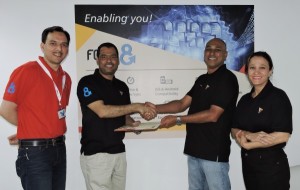 ERP and software solutions development firm Focus Softnet has announced that it has signed Future Kenya as its new partner in Kenya.
According to the terms of the partnership agreement, Future Kenya will sell, deploy and support Focus Softnet's entire range of solutions as well as offer a range of services to customers across Kenya.
"Africa is a very important market for Focus," said Jawad Ali Khan, Regional CEO, Focus Softnet. "Signing on the right partners and empowering them with the required knowledge, skills and support has been a huge part of Focus Softnet's growth strategy for Africa. We were looking for an established local partner with strong expertise in the enterprise software solutions domain and Market Mate helped us to identify the right partner in Kenya. After reviewing a number of companies, we felt Future Kenya was a perfect partner as they have more than 15 years experience in the ERP space and requisite market knowledge, expertise and an extensive channel network to promote our solutions and grow our business and market share."
The latest versions of Focus Softnet's products boasts features including integrated mobile apps, integrated CRM and multi-server synchronisation.
Incorporated in 1999, Future Kenya is a solutions and service oriented company providing business software solutions and services to Kenya and Tanzania's small, medium and large businesses.
"The ERP market in Africa is growing at a rapid pace as government organisations and midsized companies are increasingly looking towards technology as a business enabler," said Naved Sheikh, CEO, Future Kenya. "There is a huge market for ERP solutions that offer flexibility and a low cost of ownership, and Focus Softnet offers solutions that are not only feature-rich and customisable but also absolute value for money. We reviewed a few ERP solutions in the market and found that not many vendors had products that were inclusive to most vertical segments. Focus Softnet was the only vendor that had an extensive range of solutions for different verticals, which could help fill this gap. We are excited to partner with Focus Softnet in Kenya and look forward to working closely with them to offer our customers the best solutions, services and support on the ground."