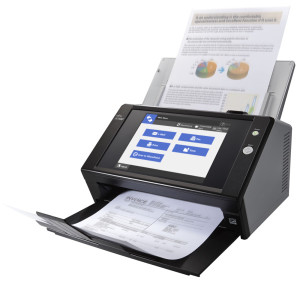 Fujitsu has launched its N7100 network scanner, which speeds up image processing within the scanning workflow "by a factor of ten" compared to its N1800predecessor.
It features a new active paper feeding mechanism, which is designed to prevent paper jams and maintains separation between sheets to avoid multiple pages being loaded into the scanner at the same time.
It also includes automated PaperStream image enhancement capabilities and USB ports for keyboard or IC reader connectivity to further increase efficiency.
The scanner can be operated without a PC and all N7100 scanners within a company can be monitored and managed by a central administration tool.
The N7100 offers an enhanced CPU and GI processor which speeds image processing by a factor of ten compared to its predecessor, the N1800.
The new solution scans paper-based information from its input tray at 25 pages per minute – A4, colour, double-sided, 300 dpi / 50 images per minute.
This reduces the total time needed to capture information by approximately 50 percent.
"The demand for network scanners is increasing," said Mike Nelson, Vice President, Fujitsu subsidiary PFU Imaging Solutions Europe. "The Fujitsu N7100 is built on the success and proven concept of the N1800 to offer exciting enhancements for companies of all sizes and government agencies alike."
The N7100 features a new active feeding system based on the Fujitsu 'Brake Roller' technology.
It also offers two USB ports for peripherals such as a keyboard and, with the help of the SDK (Software Development Kit), it can also support devices like IC readers.
In terms of security, the N7100 offers security login authentication, encryption, automatic deletion of temporary document data and secure initialisation leaving no trace of old user data.
The network scanner comes complete with network scanner admin software and scanner central admin console for centralised management.
It allows administrators to access individual network scanners or connect to a central admin server to configure and manage all the N7100 scanners in the network simultaneously.
The scanner will be available at Fujitsu sales partners starting April 2015, at $2,149 RRP.