Linksys has announced the next generation of its WRT router – the WRT3200ACM.  The new Linksys AC3200 WRT Gigabit MU-MIMO Wi-Fi Router features Tri-Stream 160 technology creating the fastest dual band router available and MU-MIMO technology for simultaneous Wi-Fi connections to multiple devices at the same time.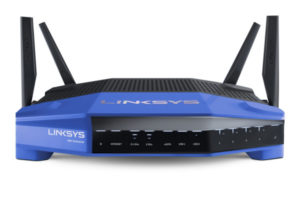 The device is open-source ready with OpenWrt or DD-WRT for complete flexibility and customisation of networking functions or for optimising the router for specific use cases, such as privacy, VoIP, and small office applications. The newly updated Linksys Smart Wi-Fi app allows users to manage and monitor their home or office Wi-Fi via the cloud from their mobile device, anytime, anywhere.
"We are excited to launch an even more powerful WRT router equipped with even more features as well as kept true to our word with Open Source support," said Amanulla Khan, Managing Director Middle East, Turkey and North Africa. "Linksys WRT is all about making the best router in its class by using all enterprise-grade components and materials while delivering the fastest wireless experience.  Our WRT3200ACM now includes MU-MIMO providing the latest AC wave 2 spec, adds DFS certification to use clear Wi-Fi channels for less interference, as well as support for Tri-Stream 160 technology. We have also increased the processor clock speed to 1.8 GHz, added up to 512MB DDR3 flash memory and kept the eSATA and USB ports WRT enthusiasts continue to appreciate."
The new WRT3200ACM extends the MU-MIMO lineup in a high performance, feature rich solution ideal for homes or small business.  MU-MIMO (Multi-User, Multiple-Input, Multiple Output) is the next generation Wi-Fi 802.11ac Wave 2 technology, which helps improve overall performance and efficiency of a Wi-Fi network while providing dedicated bandwidth to MU-MIMO capable client devices as if they have their own dedicated router. With MU-MIMO, the whole household and small office can enjoy 4K and HD TV streaming or other high bandwidth applications to multiple devices all at the same time.
In addition, the new WRT3200ACM is Dynamic Frequency Selection (DFS) certified to allow operation at 160 MHz channel width in the 5 GHz band.  It uses three streams at 160 MHz channel width to drive data at 867 Mbps per stream, providing up to 2.6 Gbps.