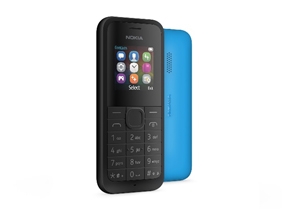 Microsoft has announced the new Nokia 105 and Nokia 105 Dual SIM. Aimed at first time mobile phone buyers, as well as people looking for a reliable back-up device for their smartphone, the new Nokia 105 will enable more people to have a voice and experience the potentially life-changing benefits that a mobile phone can offer.
The original Nokia 105 has sold more than 80 million units to date, introducing people from across the globe to mobile experiences.
The new Nokia 105 comes with enhanced functionality and features. Now also available in Dual SIM variant, the new Nokia 105 allows people to connect with people and businesses without great expense. It also lets the use enjoy the current and new features of the previous Nokia 105 including expanded storage for up to 2,000 contacts, enhanced audio for greater call clarity, increased talk time for up to 15 hours, and up to 35 days standby time and a refreshed sleek, and durable design, available in three colors: cyan, white and black.
Jo Harlow, corporate vice president of Microsoft Devices Group, "With handsets like the new Nokia 105, Microsoft brings very affordable mobile opportunities to more people. "The new Nokia 105 is an essential tool for first-time mobile phone users as they start their journey into a connected world."
The new Nokia 105 and Nokia 105 Dual SIM will be available in cyan, white and black for an estimated retail price of USD 20 before taxes and subsidies, and will begin rolling out in select markets starting this June.