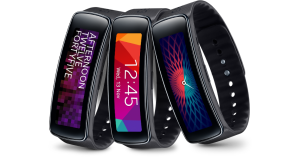 Last year Samsung released the underwhelming Galaxy Gear smartwatch, and on the face of it, the Gear Fit is a decent endeavour as a fitness alternative.
The water and dustproof Gear Fit has a 1.84in curved touchscreen colour display, and has a subtle, slim design. Packing a 128 x 432 resolution, the screen is sharp and satisfying for a small device.
It's got all the necessary accelerometers to detect movement during exercise, and features a heart rate censor and pedometer which runs concurrently throughout the day.
I haven't had the chance yet, but I'm keen to test out the Gear Fit on the football pitch, not least so I can prove that I actually warrant any sort of selection by running hard yards, but also because the device is wristband-like at 27g. This means it is barely noticeable, and is in keeping with its sleek image.
Like other Samsung wearable tech, the Gear Fit passes alerts and notifications from your Samsung smartphone to its screen.
Given that it only has Bluetooth connectivity, this would lead you to assume that Samsung believes this device is not purely an exercise-centric one. After all, most joggers will not have their smartphone within connecting distance when on the move.
Anyway, the convenient 'Find my Device' feature is great, not least because it allows the user to remotely activate their smartphone's ringtone (provided it is within Bluetooth range), but also because this could serve as a timely diversion in awkward social situations.
I for one can imagine myself making an opportune fake phone call to my smartphone whilst 'checking my pulse.' Hmm.
Add in a 3-4 day battery life and the Gear Fit ticks the boxes for a smart exercise device.
All in all, the Gear Fit is a slick device. There's something undeniably satisfying about a compact, wearable smart technology, but the sad reality is, for me anyway, that I wouldn't spend $199 on a smart fitness watch.
Although it has some pleasing features and a smooth design, it's telling that I'd rather take it off so as not to be seen with it on in Media City.
Call me picky, but until wearable technology really offers something different than what is currently on the table, then I'll give it a miss. Having said that, the Gear Fit isn't bad, just pricey for what it is. 6/10