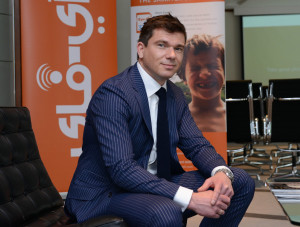 Eye-Fi has recently entered the region with its wireless SD memory card, which will be distributed by StreamPort Media. Reseller ME finds out the company's channel plans. 
Eye-Fi launched a wireless, class 10 SD memory card called Mobi, its first product in the region, couple of months ago. The nine-year-old global company is rather well established in markets such as the US, Japan and Australia and is building a market in Asia. However, when it comes to the EMEA market, it still has quite a hill to climb.
When Niels van der Valk, VP Americas & EMEA Sales, Eye-Fi, joined the company almost 10 months ago, his mandate was clear – expand the brand across territories such as Europe, Middle East and Africa and also within the individual countries in these markets. And in just 6 months, Valk was able to add in 25 more countries, making its total geographical presence to 50 countries.
Valk says, "Eye-Fi is a small company in size but is rather large in visibility. And the product that we have is well received in the market. Having identified the gap in the market, we believe it is a solution the customers are looking out for."
Identifying trends such as explosion of social media in the region, which in turn leads to a bigger need to share media content, the company believes the Middle East has vast opportunities.
Mobi is a memory card that has Wi-Fi built-in to transform standard cameras into connected devices. This makes it convenient for customers to transfer high resolution pictures or videos to their mobile devices just as soon as they click on the camera, enabling sharing on the go.
Having partnered with StreamPort Media, a local distributor to deliver Mobi to markets such as Kuwait, Qatar, Bahrain, Oman, Egypt, Iraq, Lebanon and Pakistan, Valk adds, "Last year we saw about 63 million cameras sold worldwide, off that not even 20 percent were connected or had Wi-Fi built in. Imagine the scale of opportunity present in the market. Also a massive opportunity lies in all the existing digital cameras that are not connected, currently being used by customers. These are the larger segments of market that we are going into with Mobi."
According to Reza Mehdizadeh, Managing Director, StreamPort Media, the distributor's background lies in the camera side of things. "We started out on the professional side, where we supplied TV stations with compact units that can stream video over 3G broadcast. We are always looking for products that will enable end users the simplicity of sharing and Mobi is one of those products."
The company's direct competitors include Toshiba's Flash Air and Transcend, who have been in the region for a while now. However, the company is confident that it will garner a wide market share in the region, thanks to its strong legacy in this space.
Mehdizadeh says, "There are competitors out in the market but I'm yet to come across anyone who is as quick in terms of technology as Eye Fi has been. And it works on the push technology rather than the pull one, which is a huge differentiator."
He also adds that the distribution strategy is to partner with significant players in the regional retail segment. And to enable these partners, the distributor plans to have dedicated staff. Currently, the product is available with at Jumbo, Sharaf DG, Abu Dhabi Duty Free and Souq.com. Admitting that the technology is self-explanatory, he says, "We want to project it as a solution and not just as a product. We want to emphasise on the technology behind it and the fact that it solves a problem."
The company also recently announced the availability of Windows and Mac desktop transfer for the Eye-Fi Mobi WiFI SD card in the region.