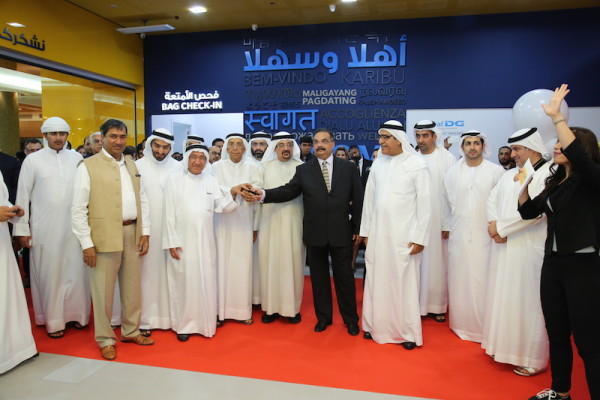 Sharaf DG has opened its newly revamped store at the Times Square Centre which reflects Sharaf DG's concept of "New Way of Doing Things".
Nilesh Khalkho, Sharaf DG, CEO, said, "It has taken us close to two years of work starting from consumer shopping behaviour research, to understanding what drives customers to visit stores be it online or physical stores and creating a customer centric shopping experience, It's a new way of doing things, a new way of shopping. One that is fresh, new and stylish."
Khalkho further stated that through the revamped store they aim to provide a unique shopping experience, which they believe can make their customers spread the word strengthen their brand.
The store features one of the biggest video walls in Middle East. The power wall is capable of displaying six times 4K resolution. The Power Wall would be used for product launches, product presentations, live video uplink and interactions with customers including the current selfie contest.
Another feature of the store is the DG Lounge which is flanked on either side by the Solution Bar. The DG Lounge is a space where customers can relax and discuss technology and products with their friends and family over a cup of coffee. They also get to discover new products and cutting edge technology curated by the Sharaf DG team at the Solution Bar.
Sharaf DG announced the launch of a new mobile app, a new website, a new feature of shop online and pick up in store, a new store at Times Square Centre all at one go.
Sharaf DG store at Times Square Centre also has one of the biggest gaming walls in Middle East a real treat for customers who love gaming. Dotted across the stores is an array of digital screens mounted on retail area tables.
A unique feature in the store is the concept of automated vending machines used for dispensing laptops, tablets, mobiles and cameras. Other improved and added feature in the store include the headphone section and the DG+ demo rooms, are a treat for audiophiles; large displays of TVs in the TV section divided into four clusters; the photography wall experience a perfect example where Inspiration can help customers choose SLRs; and the smart home experience.
Sharaf DG has also introduced a new concept of DG @ Business a Retail to Business, initiative which will serve the growing needs of small and medium sized businesses. Starting from biometrics access control, infrastructure monitoring & security including CCTV surveillance & firewall security, networking, IP telephony, print solutions, board room & class room solutions, UPS, server & storage solutions to business desktops, laptops and workstations of various form factors catering to various industry segments; the whole range of products and solutions can be experienced here.
Sharaf DG has also created a counter next to the cashiers called the 'Pick Up Point', which will serve customers who buy online or on the mobile app and visit stores to pick up their purchase.