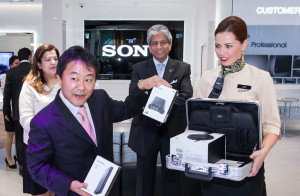 Sony has opened its 550 square metre concept Boutique store at Dubai Mall.
The outlet features the full breadth of Sony's product range, and has five  product zones for gaming, mobility, digital imaging, as well as home entertainment and high resolution audio.
The Boutique is features high resolution audio products and the dedicated High Resolution Audio zone showcases Sony's latest product offering in this segment, from headphones, portable music players to voice recorders and wireless speakers.
The Home Entertainment zone, meanwhile, showcases 4K-enabled LED televisions and 4K-enabled home projectors.
"The retail environment has increasingly become more relevant with customers looking to touch, feel and experience products before making their buying decisions," Satoru Arai, Head, Sony Middle East Marketing Company, said, speaking at the store's launch. "Such experiential retail marketing demands that store environments are built not just to sell products, but also to recreate experiences giving customers the opportunity to connect with the brand and product.
"Our new Sony Boutique showcases every detail of our latest products and technologies, while allowing consumers to instantly step into our world of entertainment content such as movies, music and games. We are convinced this boutique will hold high appeal not just to tech aficionados with their exacting standards but also to Sony fans and lay consumers who will find technology demystified at this boutique."
The Digital Imaging zone is dedicated to Sony's imaging products like the Alpha (α) interchangeable lens and mirrorless cameras, – Sony's 4D Focus technology.
The 4D Focus technology enables the sensor to detect both space and time.
The zone also features a 'shooting object' area where consumers can get a hands-on feel of cameras and take pictures of scaled down (4D) model of Dubai's landmarks – the Burj Khalifa, Burj Al Arab, and Dubai Metro, among others.
The dedicated gaming zone features the latest PlayStation models, and the company's XPERIA mobile phones and accessories can be found at the mobility zone.
The Sony Boutique is located at level 2 of the Dubai Mall opposite the Metro Link.