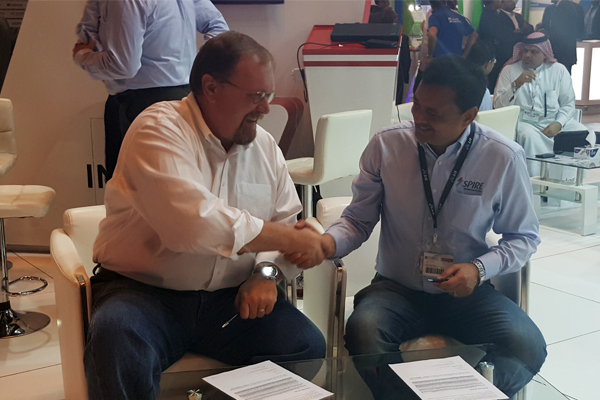 On the sidelines of the ongoing Gulf Information Security Expo & Conference (GISEC) 2015, Spire Solutions yesterday has signed a strategic partnership with CSG Invotas (CSGI).
The agreement will enable Spire Solutions to market, implement and support CSGI's solutions across the Middle East region. CSGI's Security Orchestrator accelerates data breach response time, minimises the impact of breaches, and enable internal resources to devote more time to high-impact security initiatives. The company's revolutionary platform dramatically reduces risk and boosts productivity by unifying, orchestrating and automating the key elements of incident response into a single console, giving enterprises the ability to respond at machine speed.
"When we started looking for a partner in the Middle East and North Africa we understood that we needed a company that is very special – capable of working with clients on extremely technical security issues, able to meet the needs of all security stakeholders from the boardrooms to the engineers, someone that would take the time to teach us how to be successful in the market and most importantly someone that clearly had the trust of their clients.  After talking to over 50 potential clients, friends and organisations in the Middle East we found our partner in Spire Solutions," said Peter Clay, CISO and Director of Global Services, CSG Invotas.
On their part, Sanjeev Walia, CEO, Spire Solutions, said: "One concern that all organisations across the region have, is the rapidly increasing number of security incidents and the need to respond effectively, efficiently and with speed – which is becoming increasingly difficult with grossly under-resourced teams. This problem holds true across industries such as oil and gas, defense, banking and finance, and so on. Our search for a solution led to CSG Invotas who are not only the pioneer in Security Orchestration but also have proven the value many a times with multiple customers. The team at CSG Invotas fanatically believes in delivering game changing benefits and we are confident that our customers will be elated with the value that CSG Invotas and Spire brings to the table."