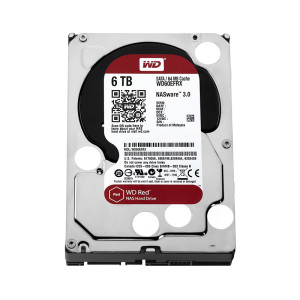 WD has announced the release of its Red line of SATA hard drives for home and small office NAS (network attached storage) systems in the Middle East.
WD Red includes 5TB and 6TB capacity for NAS-specific storage, with 3.5-inch hard drives shipping in 1 TB to 6 TB capacities, and new Red Pro 3.5-inch hard drives are available in 2 TB to 4 TB capacities.
"With the expansion and evolution of the WD Red family, WD once again is providing its loyal customers with increased capacity up to 6 TB; improved bay count support with up to 8 bays; increased product breadth with WD Red Pro; and more features with the latest generation of WD NASware technology," said Matt Rutledge, Senior Vice President and General Manager, WD Storage Technology. "WD continues to listen to its customers and bring exciting innovation to the category they helped to create."
 The Red line of hard drives is now features WD NASware 3.0, an enhanced version of WD's the original NASware technology.
The hard drives also feature 3D Active Balance Plus, an enhanced balance control technology. WD offers free premium 24×7 dedicated support exclusive for WD Red customers.
The 1–6 TB capacity drives are capable of supporting up to eight bays of NAS systems while the Red Pro line supports eight to 16 bays.
WD has also released the Green line of eco-friendly hard drives will also see capacity expansion with the 5 TB and 6 TB additions.
 The Red 5TB is priced at $269, and $329.00 for the 6TB model.