The Saudi Federation for Cybersecurity, Programming and Drones (SAFCSP) has named Apple co-founder Steve Wozniak as an ambassador for the creation of a "Saudi Tech Hub."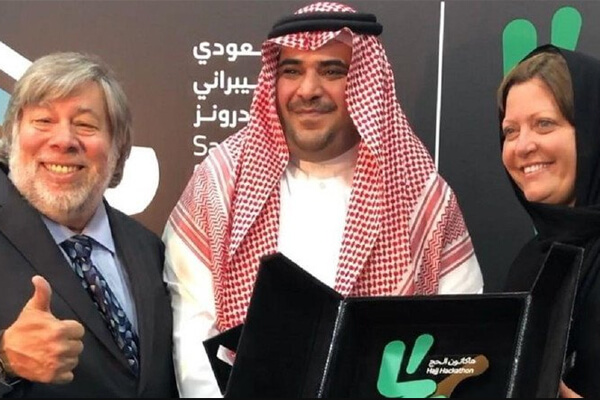 Saudi advisor in the Royal Court, head of the Saudi Federation for Cybersecurity, Programming and Drones Saud Bin Abdullah Al-Qahtani revealed this while handing out certificates during the final day of Hajj Hackathon competitions, which concluded on Friday, Saudi Press Agency reported.
Al-Qahtani said the appointment of Wozniak (known as Woz) reflects the federation's desire to work with the best technology minds to enable the Kingdom become the region's technology hub.
In a statement, Al-Qahtani said, "Perhaps the greatest evidence of the scale of these technical transformations in today's world is that a company such as Apple has become the first public company in the world with a market value of one trillion dollars. We are happy that its co-founder has agreed to be an ambassador to the Saudi Technical Hub.
"The huge interest in the technical and technological sectors is reflected in the general plans of the state, as it is one of the main objectives pursued by the Kingdom in its Vision 2030 under the supervision, follow-up and direct support of Crown Prince Mohammed bin Salman."
Wozniak said he was happy to accept the SAFCSP offer, explaining that he had been persuaded to do so by the remarkable development he has seen in Saudi Arabia's approach to technology, which strengthens the nation's vision for the sector.
He commended the success of the Hajj Hackathon, which he believes reflects the great interest among Saudis in programming and emerging technologies. "There is every chance," he added, "that Saudi Arabia will play an important role in the evolving and changing global technology community, and that that the country could soon be the main tech hub in the region."
Wozniak also lauded Saudi Arabia's Vision 2030, adding that he is a fan and follower of the NEOM "city of the future" project in particular, which he described as an amazing idea.