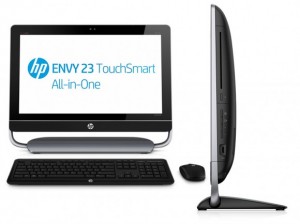 HP's TouchSmart series is one of the more widely available, long-standing models of all-in-one. We tested the latest entry-level Envy 23 TouchSmart, designed for Windows 8.
The Envy 23 is very similar in design to previous TouchSmart models, but features an edge-to-edge glass screen instead of the recessed screen those models used. This allows for Windows 8's edge-swipe gestures, which are difficult if not impossible with the old design. It's also a nice modernisation from an aesthetic standpoint, as the old model's thick plastic bezel looked rather clunky and dated.
The stand allows a vertical tilt of around 60-90 degrees — enough to find the optimal viewing angle, but even the maximum 60 degrees is still too steep for extended periods of touch gaming, drawing or using touch-enabled apps. The last model we tested, HP's TouchSmart 610, offered a far greater maximum tilt, which makes the Envy 23 somewhat disappointing in comparison.
A very basic wireless keyboard and mouse are included in the box. Simple as they are, both peripherals are very comfortable and well-designed. The mouse is a comfortable size with a good palm-rest, and the keyboard has great travel and quiet keystrokes. A media remote is included, which has useful functions such as volume control. However, the layout is a bit odd and some of the button labelling is unintuitive.
The 23-inch touchscreen has a 1920 x 1080-pixel (1080p) resolution, for a 96 pixel-per-inch density. As with other 1080p displays we tested, it looks sharp from a normal screen-viewing distance but you begin to see individual pixels when you come up close to use touch. Screen quality was good, scoring 4/5 when tested with the Spyder4Elite calibration tool.
This is very much an entry-level model, and it shows in the specs. You get an Intel Core i3-3220 dual-core CPU, 4GB of RAM, and an AMD Radeon HD 7540A graphics solution with 1GB of dedicated memory. Storage is a 500GB hard drive — smaller than the other models we tested in our February roundup, but a faster 7200RPM drive versus the 5400RPM found in most models. There's also a slot-loading DVD writer, but no Blu-ray support.
In our standard suite of benchmarks, performance was surprising. On one hand, the Envy 23's graphical performance was just awful — less than half that of the other all-in-ones we tested, and around 30% lower than the current generation of Ultrabooks with Intel's 'Ivy Bridge' generation of on-cpu graphics. In other words, the AMD Radeon HD 7540A does virtually nothing.
On the other hand, in CPU-based benchmaks, the little Core i3 CPU averages around 80% of the performance of its higher-powered Core i5 and Core i7-based siblings, and 10% better than the last crop of Ultrabooks we tested.
In short, the Envy 23 TouchSmart would make a lousy gaming PC, for all but the simplest tablet-style 2D games (things like Cut the Rope and Plants vs. Zombies). On the other hand, it's not a huge step down from the more mid- to high-end all-in-ones we tested for outright processing power. For things like basic photo and video editing, web browsing and productivity apps, you'll be just fine.
Connectivity is fairly limited. You get four USB 2.0 ports (plus a fifth hidden port inside the rear casing, used for the wireless dongle for the keyboard and mouse), two USB 3.0 ports, headphone and microphone sockets, an SD/MS/xD card reader, TV tuner, and gigabit Ethernet. There's also 802.11b/g/n Wi-Fi and Bluetooth 4.0.
Notably missing is any kind of video input/output, such as HDMI or DisplayPort. That means you can't use the Envy 23 with a second screen, nor can you use it as a display for your laptop, game console or Sky decoder. That's a real let-down, as all-in-ones can be a great way to combine the TV, PC and game console experience into a single screen in a small apartment or bedroom.
Altogether, HP's Envy 23 Touchsmart is a decent entry-level all-in-one PC. It lacks the graphical power, large storage and connectivity of its higher-end siblings, essentially offering an Ultrabook-level machine in a 23-inch form factor.
If you want a basic 'family PC' with a larger screen than a laptop can provide, and aren't going to do any 3D gaming, it's a good buy. For computer enthusiasts or even 'occasional' gamers, look for a higher-powered model.
AT A GLANCE
Intel Core i3-3220 dual-core CPU
4GB RAM
AMD Radeon HD 7450A graphics (1GB)
500GB HDD
HP ENVY 23 TOUCHSMART (23-D006A)
Contact: hp.co.nz
Summary: A good entry-level model, suitable for occasional PC users after a bigger screen than a laptop can provide.
Rating: 3.5/5 stars