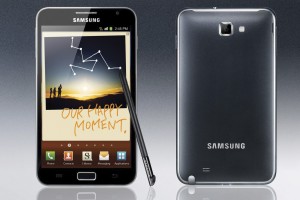 O
nce again, Samsung has pushed the edge of the mobile industry standards by presenting us with the Galaxy Note, one of the largest mobile phones (apart from the really early ones) with more features that you could possibly need.
While unpacking the Galaxy Note, it was surprising to see how big the device is with its massive body and super large 5.3 inch screen. It is also one of the thinnest in the market and weighs only 178 grams. Holding the phone for the first time felt a little weird. For years companies have been trying to make phones smaller so that we've forgotten how to actually hold a phone of this size. The advertising for the Galaxy Note doesn't help classify it as a phone or a tablet but creates a whole new category of its own, a step that was perhaps a little premature.
That said, once we switched the phone on, we were amazed at the vibrant colours and brightness of the super AMOLED display packing 800 x 1280 pixels of resolution and protected with Gorilla Glass.
Specifications and input
The Galaxy Note is powered by a Dual-core 1.4 GHz ARM Cortex-A9 processor, 1 GB of RAM, and runs Android Gingerbread 2.3.5, this makes it one of the fastest phones available. It comes with 16 or 32 GB of internal storage, and a 2GB microSD card with support for up to 32 GB.
Cameras and speakers
As you would expect from any Samsung phone, the camera performance is really good. The rear-facing 8 MP camera delivers great image quality in both daylight and night photos along with quick and accurate auto-focus and a decent LED flash. The phone also comes with a 2 MP front-facing camera for videochat which does the job perfectly.
Even though the video quality was fairly good with HD quality at 30 frames per second, the Galaxy Note did not have the best video capturing experience. The colours were not as saturated as they are in the still photos and contrast was a little bit lower. The video was also a little shaky because of the lack of a digital video stabiliser.
Samsung packed the Galaxy Note with good quality loud speakers and a set of decent quality earphones that also function as an antenna for the built-in FM radio.
Software
Samsung ships the Galaxy Note with a bunch of software features that support the S Pen stylus with apps for taking notes (S Note) and good handwriting recognition. There are also a few applications that children can play around with, like painting with like Hello Crayon, Hello Color Pencil and Hello Chalk.
You'll find yourself getting used to some of the functions of the device like clicking and holding the stylus to take a screen capture that opens automatically in an extensive photo editor, allowing you to make all sorts of changes, scribble more stuff over them, add text and a lot more.
Performance and accessories
The Galaxy Note is one of the fastest phones we have ever tried; the overall performance is very impressive whether it's video playback, gaming or many other tasks. Most of all, we loved the web browsing experience. The large screen and fast processor makes using this device an absolute pleasure. The standard Li-Ion battery lasts forever, with more than 800 hours of standby and well over 12 hours of talk time over 3G networks.

VERDICT: Nay. When it comes to features, the Galaxy Note is one of the best phones available in the market. However, the oversized screen is a bit of a throw off, it's not something you get used to easily. If you don't mind holding a massive phone against your ear, and if you have a considerable amount of space in your pocket or purse, you're in for a great phone. Otherwise, you'll need to look at the other smaller –just as good– alternatives that Samsung has to offer.
This review was done by Fahed Sabbagh – proud geek and passionate blogger. You can catch him wax poetic on all things geeky at www.nerdyface.com.