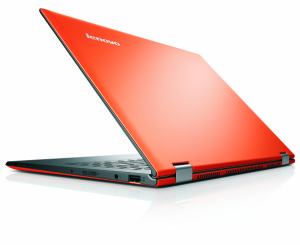 Lenovo's IdeaPad Yoga 13 Ultrabook-hybrid has been due a refresh for some time now, especially considering the proliferation of higher-powered and lower-weighted competitors. Thankfully, the company recently came out with the IdeaPad Yoga Pro 2, a slick, convertible Ultrabook-tablet that's been manufactured to perfection and simply oozes style. On the face of it, it looks like one of the smartest buys of the moment.
The design has been completely refreshed and it looks really rather good. You get a satin-finished lid and bottom side that comes, in our test version, in bright orange (or "Clementine Orange", as Lenovo calls it). Open up the device and you get a hefty-feeling backlit keyboard surrounded by a rubbery material that provides great traction. On the side, you get an inconspicuous power button on the right, plus a couple of other controls, a USB 3.0 port and a micro-HDMI out. On the left side, there's a power socket, a USB 2.0 port and a microSD card port.
In fact, from just about any angle, the Yoga 2's design and build seems head and shoulders above its predecessor. Indeed, we'd say that it's one of the most attractive devices to come from any manufacturer in recent years – people are inexplicably drawn to the Yoga 2 Pro. What's also a big improvement is the lightened weight – at 1.38 kilograms, it's considerably lighter than the Yoga 13.
The biggest improvement of all, however, comes with the Yoga 2 Pro's stunning, 13.3-inch display. Not only does the screen support 10-point touch, but it also delivers a frankly beautiful resolution of 3,200 x 1,800, which puts it squarely in Retina MacBook Pro territory. Considering that this Ultrabook costs a little over half the price of a reasonably specced MacBook (in base form, anyway), the display is big selling point in itself.
The specs aren't bad for the price, either. Every model in the range comes with Intel's new fourth-generation Haswell processor. Depending on which model you go for, you can have anything from a 1.7 GHz i3 to a 1.8 GHz i7 processor. Memory can be expanded up to 8GB, and you can have up to 512GB of SSD storage. Even for the base version, though, with the i3 processor and 128GB of storage, you get a lot of PC considering it starts at just $1,000.
When it comes to using the Yoga 2 Pro, however, there are a few issues, particularly in laptop mode (we'll get to the tablet mode later on). For one thing, the trackpad, on our review unit at least, seems to be coated with a similarly sticky material to the casing around the keyboard. This makes it cumbersome and rough to use – you really have to work hard to get the mouse pointer to where you want it to be. Meanwhile, you get features such as the double-finger scrolling that Apple perfected with its MacBook line, as well as pinch-to-zoom and a number of other actions. However, because the trackpad isn't particularly smooth, it's difficult to get these actions right on the first try.
Sure, you could get around the problem by using the touchscreen, but too many productivity apps simply aren't optimised for touch just yet. Even with Microsoft Word, it's much easier to simply drag the cursor to where you want it, rather than fiddle with the screen until you're at the right paragraph.
As stated before, the screen is stunning to behold – it delivers sharp, bright colours and is way ahead of pretty much anything the competition can throw at you. Meanwhile, the keyboard has slightly heavier keys than you'd expect from an Ultrabook, but you get used to that after about half a day's use. What's more, the backlight behind the keyboard is clear and crisp, making this laptop a joy to use under low lighting.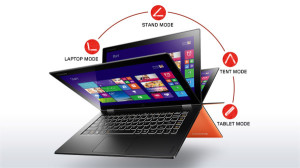 Naturally, you get a front-facing webcam built into the top of the screen. It's an HD unit capable of recording in 720p. While this isn't the best of what's seen on the market, the camera itself really is rather good. It adapts well to changes in light and provides clear images when you're making video calls.
In terms of the power, whichever spec you go for, this is a speedy little PC. No doubt the top-end i7 version will be reserved for power users wanting to enjoy a little gaming on top of the work stuff. But for most office users, the base i3 version is more than enough for general tasks. Apps open quickly and run smoothly, and it doesn't really matter what you've got open. You have to work quite hard to slow the Yoga 2 Pro down, to be honest.
You really get the impression that this laptop has been built to seriously high standards – as a laptop, the Yoga 2 Pro really does rival Apple when it comes to build quality.
The Yoga 2 Pro isn't just a laptop, though – the screen can be pushed all the way back so that it's resting against the base of the device, turning it into a large tablet. Unfortunately, the device doesn't really make much of a case for itself as a tablet. With the screen folded all the way back, the bottom of the device is now covered in keyboard keys, meaning your fingers keep pressing them as you hold it. Yes, the keys are automatically switched off once the screen is folded past a certain point, but it still feels weird and uncomfortable.
What's more, the touchscreen isn't particularly responsive, though we concede that the device could end up being used a lot in tablet forms in meeting rooms to show off charts and presentations. Perhaps there's a learning curve to this device that we haven't managed to conquer yet.
We're giving the Yoga 2 Pro the benefit of the doubt here, because all in all, it's a fantastic device at a great price. Even without its touchscreen capabilities, this would be a perfectly sound Ultrabook at a reasonably decent price. And the tablet capabilities turn it into a bargain, particularly with that fantastic build quality. If you're in the market for a high-performing, low-priced Ultrabook, this has to be the one to go for.