Staying true to ThinkPad's distinct rugged look, the X1 Extreme offers a dose of nostalgia for the older customer base. However, its premium features make it an attractive choice for even the younger 'prosumers.'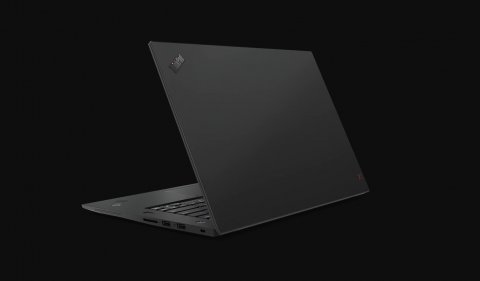 ThinkPads have always sported a distinct carbon black design. While the X1 Extreme holds true to that, it has a number of features that will appeal to millennial professionals.
The ThinkPad X1 Extreme boasts an all-black carbon fibre/graphite exterior giving the device a svelte aesthetic with a smooth, matte finish. It also has a soft-touch surface with a rubberized feel. However, while this feels nice to touch and enhances the grip, it also retains smudges and dust easily.
Its chassis measures at just .72-inches thin makes it lightweight and highly portable. The X1 Extreme line has also been tested against 12 military grade requirements, which means the device can take a few knocks and drops.
Despite its rugged design it packs premium components that help increase your productivity and efficiency.
The device comes with a 15.6-inch screen and a standard 1080 display. It shows lively, crisp and vibrant colours and produces high brightness levels. If you want a higher end version of the device, there's an option to upgrade to a 4K UHD touchscreen display with Dolby Vision HDR.
Under the hood the X1 Extreme is powered by Intel's 8th-gen i7 processor with up to a whopping 64GB of DDR4 RAM and 2TB of hard disk space with 2 1TB SSDs. It also sports NVIDIA's GeForce GTX 1050 Ti Max-Q graphics chip, which makes the device perform effortlessly. Multi-tasking with several applications and having multiple tabs opened in the web browser didn't pose any issues with the laptop.
While ThinkPads are not typically known for being gaming laptops, the X1 Extreme's beefy specs managed to run a few graphics heavy games such as PUBG with ease.
The ThinkPad X1 Extreme's keyboard is impressive. Its design has all the mainstays that come with the moniker, including the signature red TrackPoint. There's not much light leak around the keys but it has a long travel and crisp feel, which gives really tactile responses. It is also spill-proof and has a high durability certification ensuring it's a long-lasting business traveling companion, which is ideal for users who are always on the go. Below the keys you'll find an adequately sized touchpad that's highly responsive touchpad when executing multi-touch gestures.
The X1 Extreme comes with two Thunderbolt 3 ports, two USB 3.1 ports, HDMI 2.0, a smart card reader, a SD card reader and a dedicated ethernet dongle port using a proprietary connector.
For audio, there are two downward-firing speakers on both sides of the laptop and they offer a decent audio performance. The speakers are adequate for casual video streaming on YouTube but plugging in an external speaker is suggested for movies or music.
Another interesting detail in the X1 Extreme laptop are the security and privacy features. It is equipped with a fingerprint reader at the side of the keyboard and a Windows Hello camera that can be covered with the ThinkShutter camera cover.
The ThinkPad X1 Extreme packs a 4 cell, 80 watt-hour battery and ships with a 13 AC power charger, which is easy to plug in and out, but it's not a universal standard. It has an optimised battery performance and can last up to an average of 8 hours under normal to medium workloads. Charging is quite fast as well with supplied 135W adapter. There's also the option to top up the battery through its USB-C Thunderbolt ports, although it will charge slowly.
There's no doubt that the ThinkPad X1 Extreme is a brilliant laptop. Its strong performance, beautiful display and excellent keyboard make it a good choice if you need a powerful device both for work and play.