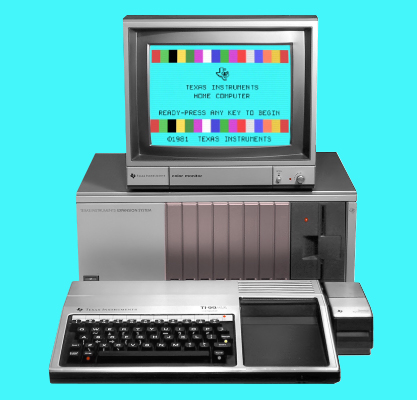 THE EARLY 1980S SAW THE POPULARISATION OF THE HOME COMPUTER. KNOWN TODAY FOR THEIR LINE OF SCIENTIFIC GRAPHING CALCULATORS, IN THE LATE 70S AND 80S, TEXAS INSTRUMENTS TRIED THEIR HAND AT THE HOME COMPUTING GAME. RELEASED IN JUNE 1981 IN THE UNITED STATES, THE TEXAS INSTRUMENTS TI-99/4A WAS AN UPDATED VERSION OF THEIR UNPOPULAR TI-99/4 RELEASED TWO YEARS PRIOR. THE GOAL WAS, APPARENTLY, TO MAKE A MORE AFFORDABLE VERSION OF THE MACHINE. THE 1979 INCANTATION WOULD HAVE SET A CONSUMER BACK $1150, WHILE THE TI-99/4A DROPPED DOWN SIGNIFICANTLY TO $525.
THE 1979 VERSION FELL SHORT IN MORE WAYS THAN AFFORDABILITY. THE TI-99/4 HAD A CALCULATOR-STYLE CHICLET KEYBOARD AND A CHARACTER SET THAT LACKED LOWERCASE TEXT. THE TI-99/4A ADDED AN ADDITIONAL GRAPHICS MODE, 'LOWERCASE' CHARACTERS CONSISTING OF SMALL CAPITALS, AND A FULL-TRAVEL KEYBOARD. BOTH USED 16-BIT PROCESSORS, MAKING THE TI-99/4 SERIES THE FIRST 16-BIT HOME COMPUTERS.
LIKE MOST MACHINES OF THE DAY, THE TI-99 SERIES INCORPORATED A VIDEO DISPLAY PROCESSOR (VDP) TO HANDLE THE GENERATION OF ITS DISPLAY. THE VIDEO DISPLAY PROCESSOR IN THE 99/4 WAS A TMS9918. IT LACKED A BITMAP MODE, WHICH WAS ADDED IN THE 99/4A. THE VDP IN THE AMERICAN 99/4A WAS THE TMS9918A GIVING THE MACHINE THE 'A' IN ITS NAME. IN THE EUROPEAN PAL CONSOLES, THIS WAS REPLACED WITH THE TMS9929A, WHICH ALSO POWERED MSX MACHINES.
INITIALLY, THE TI-99/4A WAS REASONABLY SUCCESSFUL, TAKING NEARLY 35 PERCENT OF THE HOME COMPUTER MARKET AT ITS PEAK. HOWEVER, TI QUICKLY FOUND ITSELF ENGAGED IN A PRICE WAR WITH COMMODORE INTERNATIONAL, AND WAS FORCED TO LOWER THE COMPUTER'S PRICE IN ORDER TO COMPETE. BY AUGUST 1982, THE COMPUTER WAS STILL LOSING SHELF SPACE. TI OFFERED A $100 REBATE, AND EVENTUALLY WAS REMOVED FROM THE MARKET ENTIRELY IN 1983.