Apple 1, formally known as Apple Computer 1, was designed and hand-built by Steve Wozniak – a close friend of Steve Jobs and co-founder of Apple. It was the company's very first product, and went on sale in July 1976 at a retail price of $666.66 – because Wozniak "liked repeating digits."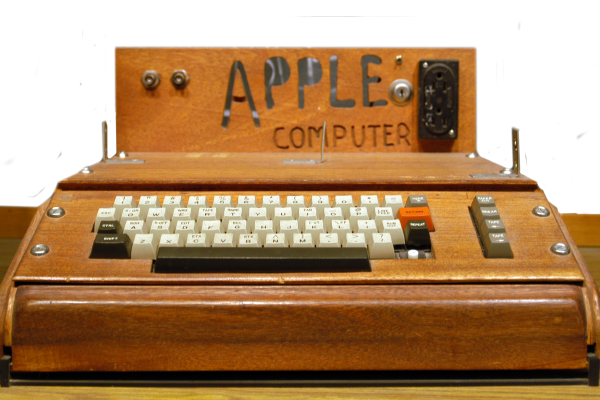 The Apple 1's built-in computer terminal circuitry, branded "a truly complete microsystem computer on a single PC board," was distinctive, and set it apart from its competitors at the time. All that was required in order to take advantage of the products features was a keyboard and an inexpensive television set.
Based on the MOS Technology 6502 microprocessor, the Apple 1 had a built-in video terminal and sockets for 8K bytes of on-board RAM memory. It used the 16-pin 4K dynamic memory chips, which were much faster and took up a quarter of the space in comparison to even the low power 2102 chips, which the majority of computers at the time were using.
Competing machines were generally programmed with front-mounted toggle switches and used red LED indicator lights for output. By supporting a built-in video terminal, this device could display the contents of 192 memory locations at once on the screen. As this meant that numbers and letters could be viewed as opposed to just LEDs, it opened the door for users to operate all kinds of alphanumeric software, including developing programmes and playing games. Text was displayed at 60 characters per second, which was even quicker than the teleprinters used on contemporary machines of the era.
The computer may have only had a few notable features, but nevertheless, it was considered a technological masterpiece, and earned Wozniak a reputation as a talented designer. Apple 1 made the headlines recently, after what is suspected to have been one of the original prototypes was sold to a Hollywood couple for $815,000. The couple intend on taking the computer into schools and universities to try to educate and inspire young people.