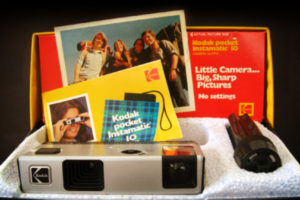 In 1972, Kodak launched its Pocket Instamatic series of cameras, which flaunted a 110 cartridge format.
The release of the gadget spawned from the immense success of the company's Instamatic series, one of the most popular lines of cameras during the 1960s, largely due to being among the first point-and-shoot devices offered at a low cost.
Pocket Instamatic's 110 cartridges had the same easy-load design as the 126 format. Measuring at 4.4-inches in length, 2.2-inches in width and 1.1-inch in height, the devices in this series were relatively smaller than their predecessor, hence, the "pocket" label.
Also present on the cameras' body was a slot for the MagiCube, which served as the flash for the device. It was also typically sold with a flash extender, as without it, the MagiCube would be too close to the lens, and produce a red-eye effect and glare the photos.
The Pocket Instamatic 10 was the cheapest in the product line with its 25mm (f11.0), (1/1) fixed-focus lens, mechanical shutter with speed of 1/90 and no exposure control. The top-of-the-line model was the Pocket Instamatic 60, which featured a stainless steel body, rangefinder, and automatic exposure.
More than 25 million Pocket Instamatics were produced in under three years since its release, and the 110 format remained popular until the 1990s.