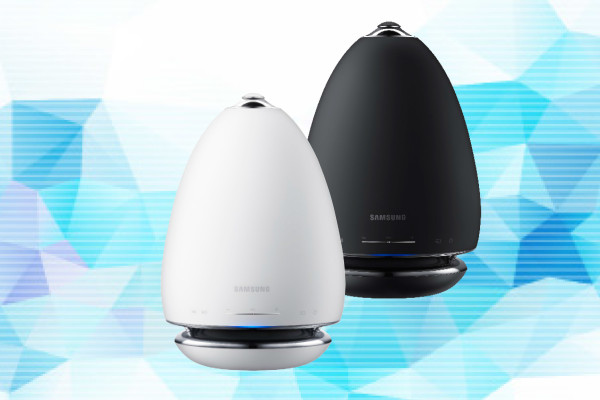 Samsung's R6 sports a unique design, which makes it an attractive buy. It's bound to split opinion, but has an undeniably modern yet practical feel, coming in either white or black and doubling as a have-a-go home ornament. While it could be easily mistaken for a lamp, Samsung designers have subtly yet delivered a symbolic egg-like appearance.
At the base of the R6, there are a range of touch-sensitive controls, including play/pause, source select, volume down and up and a power button, adding a slick touch.
The main attraction of the R6 is undoubtedly the introduction of 360-degree omni-directional sound, powered by its Ring Radiator technology, omitting sound evenly in all directions. This is achieved through the positioning of a 5-inch driver at the base, and 1-inch tweeter at the top of the device with acoustic lenses distributing sound evenly via the bottom of the R6.
A key selling point is the ability to control the speaker with your smart device, and connect it directly to a network via without using a traditional hub.
In terms of wireless battery power, the R6 can be charged in just over two hours, and will last between five and six hours depending on music volume.
Would-be customers may baulk at a price just under the 2000 AED mark, but should be encouraged by the tidy set of features offered by the R6.