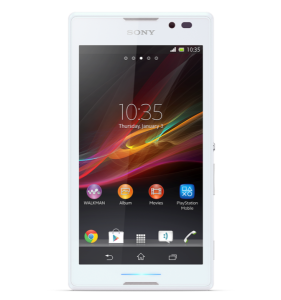 The Xperia C is Sony's latest entrant into the dual-sim market and as far as initial impressions go, it is a well-built device at a reasonable price. Sony's products have had a distinct design language in the last couple of years and the Xperia C builds further on this. The phone feels sturdy to hold and the external buttons are quite tactile. On the whole, it's an affordable device with the price ranging from AED 899 to AED 1038 at various retail outlets and online stores.
Sporting a Quad Core A7 chip, the 1.2Ghz processor is well equipped to satisfy the needs of an average user. While the phone is competitively priced and designed skilfully, it does disappoint in few areas. At 5-inch, the screen size is just right for the anticipations of a smartphone user; however the video playback on YouTube or any other similar app is not up to par. While the lower screen resolution of 540×960 pixels, does mean better battery life, Sony could have done better here by opting for an LCD panel than a TFT.
The device also sports the latest 'Stamina Mode', which almost triples battery standby time. The disadvantage however, is that it cuts off GPRS, GPS & WIFI while the display is off, which means the user will not receive any web-based notifications. However, a smart feature built into the Stamina Mode allows the user to choose certain apps that can access GPRS or WIFI, which means you are not totally disconnected from rest of the world.
The 8MP Exmor R shooter on the Xperia C performs decently in daylight, while colour reproduction under flash looks over done. That being said, the best feature about the device is its battery life. If you use social media apps such as whatsapp, email, maps and the camera scarcely, it will give you more than a day of usage easily. Even with continuous web-browsing or YouTube surfing, it will still leave you with enough battery life till you make it home.
Apart from these main features, it has the standard ones such as a 4GB built in capacity, which is expandable up to 32 GB and 1GB RAM. Equipped with Power VR SGX544 graphics, it can get through most games including asphalt 7 with decent performance.
Sony has developed a number of dual-sim phones in the past and the Xperia C takes the experience to a whole new level. The 5'' screen does give the user additional screen real estate, and considering the price and target audience; it is a decent device. Though better screen sensitivity would have enhanced its buying appeal.
All in all, the Xperia C is a dependable sturdy device that will meet the requirements of most average smartphone users at an affordable price.