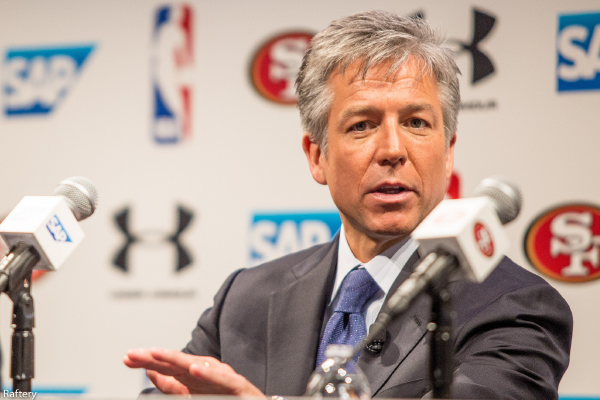 At its annual customer event SAP Select in Barcelona, the company laid out its strategy for growth, with HANA at the forefront.
SAP is fighting off the perception of being a back-office application company as it pushes towards cloud and Internet of Things.
"We are not just an application company but a cloud and platform company with many assets. Before HANA came in, we didn't have much going on in the cloud. We went on a shopping spree and spent $35 billion in innovation in the cloud," said Bill McDermott, CEO of SAP.
He added that in the global economy, where social networks have become business networks, and highly fragmented supply chains, companies have to rethink their business models. "How can you be more relevant to your customer than anyone else in your space? Markets are going up and down and the key to advancing is making digital the heart of everything you do."
SAP says reimagining businesses the digital economy requires the right technology and eliminating complexity.  "We are offering SAP digital framework, powered by HANA, to simplify business processes. Opportunities in the digital economy are coming at you from every angle and you require a digital framework to harness these opportunities," said Rob Enslin, President of Global Customer Operations.
SAP's digital business framework is based on five key pillars – workforce engagement, business network collaboration, Big Data, IoT and customer experience across all touchpoints. SAP says each of these pillars provides a step towards a digital future, but the magic happens when they all interconnect to achieve truly transformational business outcomes.
While laying out the building blocks the digital era, SAP's key executives emphasised that the company's S/4 Hana will be the nucleus of the digital core and core underpinning of every product it makes, including cloud applications. In a bid to fully flesh its HANA cloud platform, SAP is offering developer licences for free so that customers can build new apps and extend their core.
With the continued success of HANA, SAP is now transitioning from a traditional on-premise software company to a cloud-based software vendor and says it is focused on acquiring new customers for its cloud business.  "We have seen triple digit growth across cloud properties. In fact, in Q3 our cloud revenue grew by 67 percent with double-digit growth in new cloud bookings.  There is a misconception that on-premise business is growing in emerging markets and cloud in more mature markets. We have more cloud revenues in the Middle East than in France," said Enslin.
SAP is also building a consulting ecosystem by hiring system integrators to help customers adapt to the cloud world. "The number one priority for customers when they do a cloud implementation is simplification of processes, not cost. We are convincing our partners to adapt to new models and we are measuring the time it takes to implement," said Franck Cohen, President of SAP EMEA.
The event also heard from company CIO Helen Arnold who said business models are being completely disrupted in the wake of cloud and CIOs have a tremendous challenge and responsibility to drive an end-to-end transformation. "This is the best time ever to be a CIO. For a long time, the role of CIO was to keep the lights on. Now, they have to embrace the change, and new technologies to build different business processes. It's not about technology per se, but doing things differently. You have to stay much closer to business than before, and play a key role in enabling company strategies."