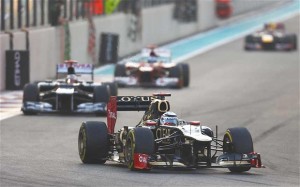 As the Formula One World Championship made its return to the Middle East, the Lotus team highlighted the supreme importance of IT in the success of a race by claiming its new partnership with Microsoft Dynamics will drive it to victory in 2014.
The Lotus F1 team has set its sights on winning the 2014 Formula One World Championship driven by a complete business transformation with Microsoft Dynamics.
The team's Kimi Raikkonen was victorious at November's Abu Dhabi Grand Prix – the third from last race of the 2012 Championship –  and Lotus believes its strategic partnership with Microsoft will drive it the extra mile come 2014.
"We want to be in a position to win," says Graeme Hackland, CIO, Lotus F1 Team. "We're investing in people and technology, and we need to improve our processes. I really think Microsoft Dynamics AX is going to help the team in this challenge for 201 4 and end-to-end business transformation is required to do that."
Lotus will use Dynamics to manage the entire F1 car lifecycle from initial concept to design, procurement, manufacturing and racing, as well as testing the 20,000-plus parts on each car and analysing real-time data from the racetrack.
The team evaluated 13 enterprise resource planning (ERP) solutions before selecting Microsoft Dynamics. "We have to keep innovating, we have to keep changing, and that's where we see the advantage with Microsoft," Hackland says.
Lotus will utilise the Dynamics technology to track all of that data from design to deployment, helping boost productivity and giving it an edge on the track.
"We have very good people, but often they work on intuition and experience, not necessarily the information at hand," Hackland says.
"They need the management information to decide whether they should make a particular part use a particular material, and estimate the impact on the budget and its effect later in the season. Microsoft Dynamics AX will give us that information so we are then able to make the car quicker."
Shaving those milliseconds
Accuracy, agility, timely information and speed of execution are not just essential to Lotus, but any formula one team
Shaving off those milliseconds depends on a process of design, procurement, manufacturing, testing and deployment. "The complexity starts at the drawing board," Hackland says.
More than 13,000 drawings make up each Lotus F1 Team car, and even the smallest parts go through constant tweaks in design, aerodynamic optimisation and structural strengthening.
Throughout the racing season, Lotus engineers – with backgrounds that include astrophysics, aeronautics and wind design – will modify the drawings based on huge amounts of data from supercomputers, wind tunnels and the car's 200 sensors that deliver real-time analytics from the track.
From the production schedule of the creation of an engine to the amount of time it takes to unscrew a lug nut and replace a tyre, Lotus F1 aims to save time in every process leading up to the race, Hackland says.
"An integrated solution can optimise business processes, improve quality and enable a performance-driven approach to Lotus F1's racing operations," he adds.
According to Hackland, on a race weekend the focus from a technology perspective is to ensure 100% availability on all information systems – be it the on and off car software, data logging, capture and manipulation tools, ERP and back office services or just  general file, email, print and Internet services.
"Quite simply, everything is so intrinsically related to IT that a failure of any kind, hardware or software, cannot be a reason to delay or stop the running of the car," he says.
Once the chequered flag falls and the race is over the IT challenge is then to ensure all of the weekends logged data (both structured and unstructured) is transferred back to the Lotus team's base in Enstone, England, so that the engineers arriving on Monday morning can continue their analysis of the weekend.
Fred Studer, General Manager, Microsoft Dynamics, says the relationship with Lotus F1 enables Microsoft to drive exposure and awareness of the software applications.
"It will allows us to constantly optimise the value, flexibility and simplicity of our enterprise offerings through the direct and ongoing collaboration with our R&D team, as well as giving us a prestigious live showcase and executive briefing centre at the Lotus F1 Team facilities in Enstone," he says.