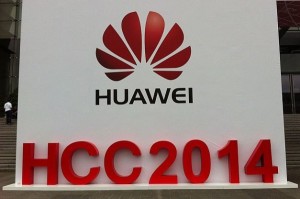 Huawei opened this year's Cloud Computing Congress in Shanghai, China with expected fanfare. On September 15th, HCC gathered over 10,000 customers, partners and industry professionals from more than 80 countries around the world. Participants shared insights and promoted dialogue on industry trends and topics around cloud computing and Big Data.
Attendees at the two-day event heard from 66 of Huawei's partners and industry leaders across the ecosystem, including Intel, Seagate and SAP. Though the keynote addresses of the first morning set to place the Chinese giant on the global stage with its refreshed cloud computing and IT strategies, the most notable announcement of the morning was the advent of the Huawei Global Connectivity Index (GCI).
Huawei's GCI is the company's attempt to quantify connectivity worldwide. The GCI study found that country connectivity correlates with GDP, with Huawei's analysis of 16 indexes showing that for each GCI percentage point increase the GDP per capital increases 1.4 to 1.9 percent and is relatively higher for emerging countries. Among the countries surveyed, Germany ranks first due to its strong commitment and ongoing investment in information and communications technology (ICT) development, resulting in a market with competitive vitality, according to Huawei.
The report highlighted how different enterprises invest in and gain value from ICT to further identify why some industries are undergoing a digital transformation and some simply are not. In this process, the report was able to allocate each industry to one of four quadrants identified by Huawei: Transformers, Strategists, Tacticians and Stragglers. Perhaps of most interest to Huawei, Transformers regard ICT as a core driving force for business transformation and continuously invest and proactively reshape their ICT business models. Industries such as finance, education, oil and gas and manufacturing demonstrate ICT-enabled transformation. With 71 percent of finance enterprises indicating their ICT investment will increase by more than five percent over the next two years, it is the highest ranking industry for development. The GCI reports that 65 percent of enterprises plan to increase their ICT investment over the next two years.
In addition to the GCI, Huawei top-brass laid out the company's IT plan, as well as a suite of new cloud computing products. Data centres, converged storage solutions, cloud operating systems and Big Data analytics platforms took the stage and aimed to bring to life Huawei's vision to "Make IT Simple, Make Business Agile." In his keynote speech, Zheng Yelai, President of IT Product Line, predicted, "Rapid developments in the digital world are redefining information technology. We will see increasing mobility-based data consumption, Internet of Things (IoT)-based data collection, Big Data-based data analytics, and cloud-based data sharing in the near future. Enterprise IT consumption models are also changing: the equipment-centric model is evolving into one that centres on applications and services, and independent data management and operation and maintenance (O&M) will evolve into unified management and operations. Future-proof enterprise data centres will need to be service-driven."
The HCC showcase was dotted with booths highlighting how Huawei's innovations are changing the way we bank, travel and even use our healthcare systems. End-users were on hand to discuss how the company's solutions had enabled their businesses. HCC 2014 also saw the release of Huawei's FusionSphere 5.0 cloud OS as well as the much anticipated OceanStor converged storage system, both of which are key components of the Service Driven-Distributed Cloud Data, or SD-DC², architecture.