With a renewed focus on innovation and enterprise technologies, Dell is raising the stakes with an end-to-end, solutions-oriented strategy. Jeevan Thankappan reports from Dell Innovation Day in Copenhagen, Denmark.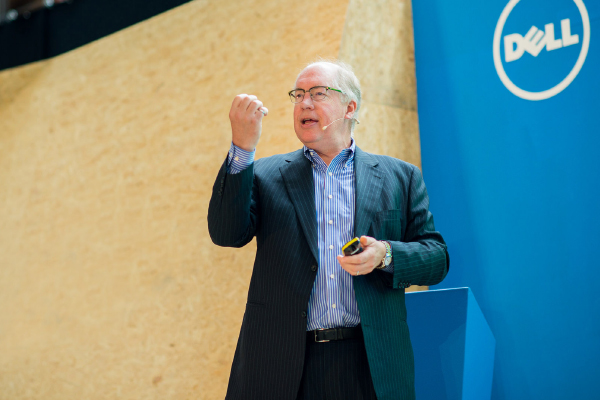 Having gone private almost two years ago, Dell has made good on its promise to go back to its B2B roots and focus on innovation with a customer-first strategy.
With some of its major competitors in transition, Dell has ramped up its enterprise offerings – from clients to cloud – and plans to tap into emerging technologies to drive growth and create new lines of business.
"This is a great time to talk about innovation, which takes many forms," said John Swainson, President, Dell Software, in his keynote address. "They have all come together to create a society of the future, underpinned by technology, which has become a catalyst, influencing the way we think about the world, ways we do business and communicate. Technology has become the key to unlocking human potential in the coming years."
He said cloud now offers new ways of virtually delivering every product and service in a faster and responsive manner, and the incredible advances in the base tehcnology itself has opened opportunities to not just carry out existing processes more efficiently but also to execute new processes in a manner that was previousloy unimaginable.
Dell, who had more patents in 2014 than any year in its history, is focusing its R&D initiatives on democratising the bleeding edge of technology to make it available to enterprise customers. "We are the largest hyperscale systems supplier and now we want to make them affordable and push them to our enterprise customers. We have also invested in Dell Financial Services to offer financial support for customers and have already done 100 plus PoCs this year to date," said Jai Menon, Chief Research Officer, Dell Research, which was set up two years ago.
Menon also shared Dell's annual technology outlook, the vendor's take on disruptive technology trends and inflection points. "By 2020, specialisation via software will beat custom hardware, and servers will continue to advance in performance, memory capacity and bandwidth," he said. "A single server's capacity will exceed the entire printed collection of the US library of congress. We will also see the emergence of software-based data centres and enterprise data centres will be simplified to servers."
Dell's outlook also says that by 2020, the majority of real-time data analytics will be seamlessly integrated into business processes, and will become democratised, instantly applicable and easy to consume.
A recurring message during the conference was the advantage of being a private company.
"It allows you to the focus more on what's ultimately important – our customers – and it's already showing in our results," said Matt Baker, Executive Director, Enterprise strategy. "In EMEA, we are now number three behind Cisco and HP in networking, having come up from a lower position previously. We also grew our storage business while the rest of the market remained flat. In the server market, we are number two, and only 24,000 units behind number one. We remained the market leader in the density optimised space, which is more tailored towards hyperscale service providers."
While its major competitors are cutting costs and employees, Dell is continuing to invest in new lines of business and market coverage models, led by channel especially in the MEA market. Will this provide what it needs to reclaim its former glory? Dell, at least for now, appears to be on the right track.